Congratulations to Annenberg's 2022 Ph.D. and M.A. Graduates
Eleven students earned their doctoral degrees, and 12 students received M.A. degrees.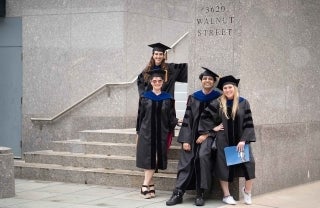 Earlier today, the Annenberg School for Communication held its annual graduation ceremony for doctoral students. The in-person celebration honored 11 graduate students who have earned their doctoral degrees in Communication.
The ceremony honored the following students, listed with their dissertation titles:
| | |
| --- | --- |
| Megan Genovese | "Pop Culture Frameworks for Moral Expression in Left-wing Political Talk" |
| Heather Jaber | "The Digital Bahdala: Recoding national humiliation across post-revolutionary Lebanon and Egypt" |
| Chloé Nurik | "Censored, Commodified, and Surveilled: How Facebook's Self-Regulatory Governance Harms Marginalized Communities" |
| Prateekshit Pandey | "Disentangling the Reciprocal Relationship Between Political Efficacy and News Sharing Behavior" |
| Jacob Pearl | "A House's Speech Divided: Novel Applications of Text-As-Data for the Study of Elite Polarization In the U.S. House of Representatives (1983-2016)" |
| John Remensperger | "Becoming Party Activists: Grassroots Progressive Activism and the Democratic Party" |
| Mohammed Salih | "The Islamic State: Discursive Articulations of Identity, Subjectivity, Community, and Statehood" |
| Celeste Wagner | Responding to Media Coverage of Gender-Based Violence in Argentina and the United States: A Mixed Methods Study of the Intersecting Roles of  Gender, Class, and Racialized Ethnicity among General and Activist Publics" |
| Chioma Woko | "A Mixed-Methods Investigation of COVID-19 Vaccine Hesitancy: Leveraging Surveys, Social Media Data, and Experimental Evidence to Address Vaccine Uptake Among Black Americans" |
| Tian Yang | "How Do Digital Intermediaries Shape News Consumption? An Observational Study based on A Large Web Panel in the US (2016 to 2019)" |
| Alvin Zhou | "Characteristics of the U.S. Digital News Landscape: Trends and Patterns in Audience Behavior" |
Congratulations are also in order to the following Annenberg students who have earned their M.A. in Communication en route to the completion of their doctoral degrees.
Assil Frayha
Cienna Davis
Adetobi Moses
Samuel Wolken
Charles Howland
Pris Nasrat
Chloe Ahn
Jenny Lee
Azsaneé Truss
Danielle Clark
Louisa Lincoln
Xinyi Wang
In addition, Mia Jovanova and Jeanna Sybert were recognized with the James D. Woods Award for outstanding teaching by a graduate assistant.