Centola and Pickard Honor Former Penn Faculty with New Chair Names
Centola and Pickard have chosen legendary scholars Elihu Katz and C. Edwin Baker.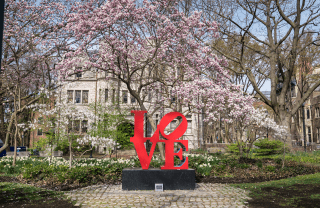 In keeping with Annenberg tradition, Professor Damon Centola and Professor Victor Pickard have named their endowed faculty positions after people they admire. Centola has chosen to honor Professor Emeritus Elihu Katz, who taught at the Annenberg School from 1992 until his retirement in 2014, and Pickard will memorialize C. Edwin Baker, who was on the Penn Law faculty from 1981 until his death in 2009. Baker also held a secondary appointment at the Annenberg School.
Centola, now the Elihu Katz Professor of Communication, Sociology, and Engineering, admires Katz's pioneering work as one of the founders of modern research on social networks and behavior change. Katz's seminal work with Paul Lazarsfeld, Personal Influence, is one of the classics in the field of social diffusion, as is his subsequent work with James Coleman, Medical Innovation: A Diffusion Study. 
"Both of these watershed studies were enormously impactful on my own work," says Centola. "And Elihu is one of the scholars who initially drew me to Annenberg. He is one of the most engaging, insightful, and charming people that I've had the good fortune to call a colleague."
Centola studies social networks and behavior change. His work identifies the social causes of disease outbreaks; the origins of political conflict and ideological polarization; and the dynamics of tipping points in social norms.
Katz's research focuses on functions and effects of mass media in different social systems, diffusion of ideas and innovations, dynamics of public opinion, recent studies of the live broadcasting of political ceremony, the reception of American popular culture overseas, public opinion in conflict situations, and pre-election polling.
Now the C. Edwin Baker Professor of Media Policy and Political Economy, Pickard highlights Baker's research on how societies design media systems and how these choices elevate some voices over others. Baker believed that media ownership mattered, and he was engaged with core structural problems in the American media system, participating in key policy discussions and working with activists.
"Over the years, I had several inspiring conversations with Ed, which I will always cherish," says Pickard. "He was a very kind and brilliant man and was driven by a clear idea of what media should do in a democratic society. I will do my best to carry on the struggles he championed."
Pickard's research focuses on the history and political economy of media institutions, media activism, and the politics and normative foundations of media policy. His work is particularly concerned about the future of journalism and the role of media in a democratic society.
Baker was considered one of the country's foremost authorities on the First Amendment and on mass media policy. His work focused on the economics of the news business, political philosophy, and jurisprudential questions concerning the egalitarian and libertarian bases of constitutional theory.