New Annenberg Virtual Reality ColLABorative Brings Immersive Technologies to Academic Research
The lab supports critical and interdisciplinary exploration and theory building around virtual, augmented, and mixed reality technologies.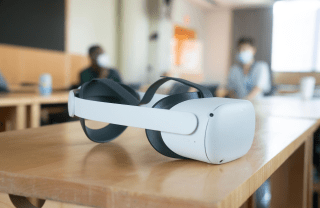 Virtual reality is a hot technology right now. Mark Zuckerberg is all in on the metaverse. Oculus headsets let you do your workout on Saturn or play poker with your friends' avatars. Google wants you to feel like you're talking face-to-face in VR and Apple is rumored to be working on a "mixed reality" headset.

To better understand virtual reality in our media landscape and how it might be utilized in academic research, Katerina Girginova (Ph.D. '18) and Annenberg Digital Design Specialist Kyle Cassidy have launched the Annenberg Virtual Reality ColLABorative, a lab created to support critical, intellectual, and technical exploration of virtual reality technologies in society.
Girginova and Cassidy are both advocates for the potential of virtual, augmented, and extended reality in academia and believe that contemporary communication scholarship needs to investigate virtual reality and its place in society.
Cassidy has been enamored with virtual reality for years. 
"From the second I first put a VR headset on, I realized that the world had changed and I wanted to be a part of it," he says. "It was the exact same feeling I had the first time I encountered the internet."
Enhancing Research through VR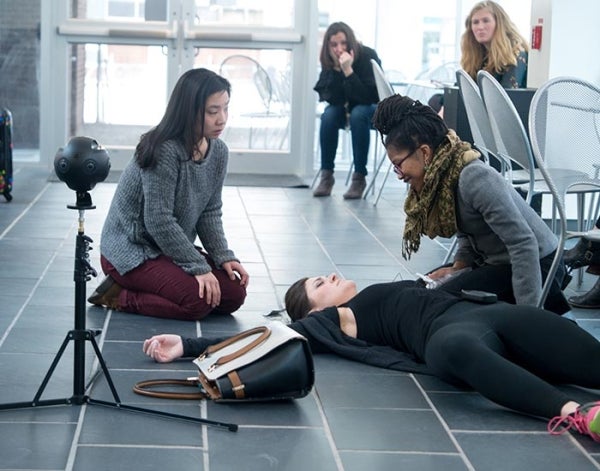 In 2018, he worked with then-doctoral candidate Natalie Herbert (Ph.D. '20) and Penn Nursing to create an immersive, 360-degree training video to teach health care providers how to administer Narcan in the event of an opioid overdose. A pilot study showed that watching that video was just as effective as in-person simulation training. In 2020, he was awarded a Penn Model of Excellence Award for his work with virtual reality.
At the start of the pandemic, Cassidy used his experience with VR in medicine to help Kevin Ching, a physician in New York City create a VR video that demonstrated best practices for treating COVID-19 patients suffering from respiratory failure.
In 2019, Cassidy, along with Katie Gressitt-Diaz of Rutgers University, helped Annenberg doctoral student Zane Griffin Talley Cooper create a VR documentary about his research on the complex relationship between the political, environmental, and human consequences of cryptocurrency technology. The documentary was part of a multimodal exhibit called "Alchemical Infrastructures: Making Blockchain in Iceland" that went on display in the Annenberg Forum.
In May, Girginova and Cassidy arranged their first big event — a virtual reality-based reception for the annual International Communication Association Conference, mirroring the one held in real life in Paris.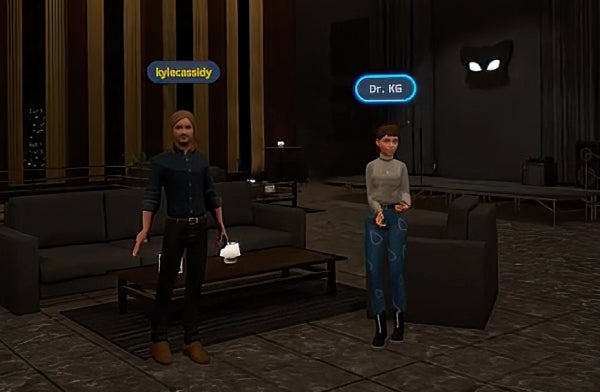 "What we found was that a majority of the participants were people who for one reason or another could not travel to the conference," Girginova says. "There's accessibility in a virtual event. People who couldn't attend the conference due to family or financial or safety or visa reasons could attend our event."
Girginova, a former postdoctoral fellow with the Center for Advanced Research in Global Communication and Center on Digital Culture and Society, is interested in looking at VR critically and theoretically. Her dissertation at Annenberg examined how audiences on social media — a kind of alternate reality itself — experience global events together.
"Intellectual IT Department"
"We want Penn to have a real footprint in virtual reality studies," she says. "I think what we are trying to do is to highlight that virtual reality has actually been around for a while and debates about it have been here for a while." 
The Virtual Reality ColLABorative plans to foster a community of scholars interested in virtual reality — not just at Penn, but worldwide — through events, workshops, discussions, and more.
The lab's first event of the semester, "Yesterday's Future: The Centuries-Long Quest For Virtual Reality" on September 15, will bring together scholars John Pavlik (Rutgers University), Rita Lauria (University of Maryland Global Campus), and Brad Hafford (Penn Museum) to discuss the history and the future of virtual reality. After the discussion, Girginova and Cassidy will hold a workshop on using the virtual reality tools that are available to Annenberg faculty and students through the Virtual Reality ColLABorative.
Part of the lab's mission is making VR technology available for anyone at Annenberg who is interested in using it.
"I think of VR as another type of technology that we can offer to faculty and students to add to the research that they're doing. They might not know how to use it at first, but we can help them figure out how," Cassidy says.
"We can serve as a sort of 'intellectual IT department.'" Girginova says. "We can help students and faculty experience VR technology to see how it may enhance or enrich their existing work, but at the same time, we can also be a place to assist with theory building, criticism, and a deeper understanding and engagement."