New Center to Focus on Information Networks and Democracy
Directed by Sandra González-Bailón and co-directed by Yphtach Lelkes, the Center for Information Networks and Democracy will analyze the benefits and risks of digital technologies for political and civic engagement.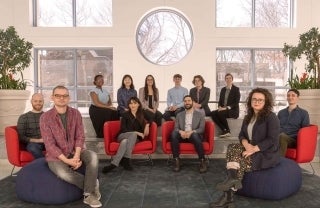 The modern internet has become closely tied to politics. Pivotal political protests have started on Twitter. Social media feeds curate how citizens encounter news. As technology evolves, new questions about the intersection of political communication and the internet are emerging: Will chatbots affect elections? Do algorithms affect democracy? Can political news be vetted in the age of TikTok? 
The newest research center at the Annenberg School for Communication, the Center for Information Networks and Democracy (CIND), aims to find out.
Directed by Associate Professor Sandra González-Bailón and co-directed by Associate Professor Yphtach Lelkes, CIND is dedicated to understanding how information networks — the web, social media, emerging online applications — impact politics and democratic participation.
The Center's research will cover six thematic areas: algorithmic curation, collective action, digital inequalities, political segregation, information ecosystems, and political engagement.
"Digital technologies have created a complex information environment that requires a multidisciplinary approach to unpack," says González-Bailón, a computational social scientist who has done extensive research on information networks, and how information flows can lead to political action. "Our goal in launching this new Center is to create a space where we can build synergies and integrate research as we explore the different facets of how communication technologies shape politics". 
Yphtach Lelkes, who also co-directs the Polarization Research Lab, a collaboration with researchers from Dartmouth College and Stanford University, brings a background in measuring and understanding political attitudes. 
"In the midst of a technological revolution that is transforming our world, we face new challenges that transcend borders," says Lelkes. "Misinformation and polarization threaten the very fabric of our society, and to overcome them, we need expertise in computational social science, technology and social media, and democracy. It is our hope that CIND will be the epicenter of this research, driving innovation and fostering collaboration."
Recently the pair authored a paper on social media's role in social cohesion, examining a decade of literature on how online platforms affect social unity and conflict. They are also co-teaching a graduate seminar designed to translate those theoretical ideas into empirical research designs. 
In addition to González-Bailón and Lelkes, CIND brings together an inaugural cohort of Ph.D. students who are developing research projects at the intersection of political communication and computational social science. The center also plans to hire postdoctoral researchers in the coming academic year. 
González-Bailón and Lelkes hope that CIND will uncover the unique ways that digital networks shape exposure to information, mediate the political process, and facilitate or hamper civic engagement.
"We are at a unique juncture in the study of political communication," says González-Bailón. "Digital technologies are forcing fast-paced change in how we engage with information, communicate, and interact. With this new Center, we aim to generate the research that can help us map that change and identify ways to develop better and safer technologies."