Calvin Isch researches collective dynamics of human systems and individual differences in future-oriented attitudes and behaviors using big data, web-based experiments, and methods from the computational social sciences.
Calvin Isch is a doctoral student at the Annenberg School for Communication where he is a member of the Network Dynamics Group. Before joining Annenberg, he taught sixth grade math as part of the Teach For America program. In his present and future roles as a creator, educator, and scientist, he hopes to utilize the computational social sciences to improve the systems that shape our lives.
Education
B.S., Indiana University, 2020
M.A.T., Relay Graduate School of Education, 2022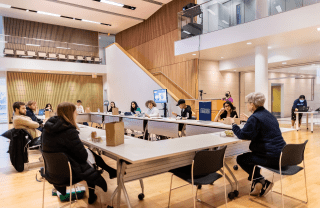 News
In a class taught by Kathleen Hall Jamieson, Annenberg School for Communication doctoral students are documenting the process of creating the Fallen Journalists Memorial in Washington, D.C., interrogating everything from physical site to word choice.