The Annenberg School Welcomes 15 New Ph.D. Students
The 2022 cohort of doctoral students has a wide range of research interests, including perfectionism, political behavior, social movements, and more.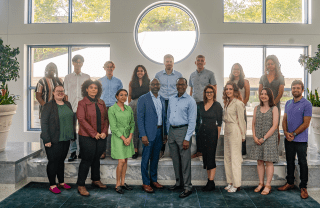 The Annenberg School for Communication is proud to welcome its newest cohort of doctoral students. The fifteen students in our 2022 cohort bring a wide variety of research interests, professional experiences, and accomplishments to the program, including work in civil service, journalism, research, and education. 
Benjamin Muzekari hails from just outside of Philadelphia — New Hope to be exact. Prior to coming to Annenberg, Muzekari was a lab manager in the Adcock Lab at Duke University, where he studied perfectionism and how real-time fMRI neurofeedback interventions enhance motivation, learning, and reward sensitivity. He received his B.A. degree in Psychology from Temple University. At Annenberg, Muzekari will work with the Communication Neuroscience Lab as well as the Addiction, Health, & Adolescence (AHA!) Lab to study how message techniques can induce different motivations, beliefs, and attitudes to change behavior.
Fontaine Fellow Nya Mbock also plans to work with the AHA! Lab. Originally from Yaounde, Cameroon and Portland, Oregon, Mbock's undergraduate honors thesis at Portland State University was an immersive visual and audial reflection of her Cameroonian heritage and her experiences as a dual citizen. While earning her B.A. in Communication, Mbock worked as a programming associate for the university's Center for Women's Leadership. At Annenberg, Mbock will focus on approaches to public policy and professional development that include marginalized and gender-expansive identities.
Another researcher of institutional politics, Sim Gill has a B.A. in Politics, Philosophy and Economics from the University of Warwick and a M.Sc. from the London School of Economics, where she specialized in Media, Communications, and Development. Prior to coming to Annenberg, Gill worked in the British Civil Service as the Private Secretary to the Chair of the UK Statistics Authority as well as the Deputy Private Secretary to the National Statistician. At Annenberg, she will study the concept of mediated feminism and the political economy of networked outrage.
Two students in our 2022 cohort are in a joint program with the Department of Political Science. Tom Etienne comes to Philadelphia from The Pennsylvania State University, where he was a research assistant to Dr. Sona Golder for a project on party instability in parliaments. Previously, Etienne lived in Amsterdam, where he graduated with a M.Sc. in Political Geography from the University of Amsterdam and worked at political research institute Kieskompas – Election Compass. A native of Leuven, Belgium, he received his B.S. in Transportation Science from Hasselt University. Etienne plans to study the role of ideology in public opinion in Europe and the U.S. at the intersection of political behavior, psychology, and communication. 
Fellow joint Political Science doctoral student and Fontaine Fellow Natasha Williams received her B.A. in International Relations and Economics from New York University and — after graduation — worked in private research. At Annenberg, Williams will research technology's impact on society and statehood, focusing on misinformation, disinformation, and technology-enabled competition in the global power environment. Her undergraduate thesis won New York University's Best Honors Thesis award.
Kate Okker-Edging and Qijia Ye will both work with the Health Communication & Equity Lab. Okker-Edging's research centers around social media and mental health with the goal of improving mental health for LGBTQ+ youth and adults. Before Annenberg, Okker-Edging received an M.P.H. and an M.A. in Journalism from the University of Missouri-Columbia and a B.A. in International Relations and Arabic from Tufts University. At Annenberg, she will investigate how social media platforms can be leveraged to improve mental health outcomes.
Qijia Ye studies persuasion in health contexts and particularly focuses on the role of emotions in message effects. Ye has B.A. in Advertising from Zhejiang University in China, an M.A. in Communication from Michigan State University as well as M.A. in Promotional Media from Goldsmiths, University of London. At Annenberg, he will research the effects of emotional appeals on the role of emotions in shaping and changing message recipients' attitudes and behaviors.
University of Pennsylvania Fontaine Fellows Christiana Dillard and Devo Probol both study social media. Dillard is interested in how social media users create and participate in educational content online, and how media literacy plays a role in the development of this content. From 2021 to 2022 she was a National Association of Black Journalists – Facebook Fact-Checking Program fellow. Before coming to Annenberg, Dillard earned a M.A. in Media Studies and Production from Temple University and a B.A. in English from the University of Pittsburgh. At Annenberg, she will investigate how and why social media users decide to learn new skills and information online.
A Penn Presidential Ph.D. Fellow and Teaching Fellow for the Digital Media for Social Impact Executive Program, Devo Probol researches digital cultures, collective identity, and political process theory. With a B.A. in History and Religious Studies from Arizona State University and an M.S. in Strategic Communication from Columbia University, Probol worked with the U.S. Department of State and the U.S. Department of Defense on communication with 36 countries in the Asia-Pacific region. At Annenberg, she will research the social, political, and cultural consequences that result from collective identity construction in digital cultures.
Many of our students have a background in teaching. A Fulbright-García Robles scholar, Silvia Téliz earned a B.A. degree in communication from Universidad Panamericana in Mexico City, where she later taught quantitative research in communication. After graduation, she evaluated public policy programs for Mexican institutions such as the National Institute for Information Access and the National Judiciary. At Annenberg, she plans to study the representation of racial and skin color stereotypes in Latin American mass media.
Prior to coming to Annenberg, Valentina Proust was an adjunct professor at Pontificia Universidad Católica de Chile in Santiago. She also worked as a journalist for the Chilean newspaper El Mercurio. Proust holds two Licenciaturas degrees from Pontificia Universidad Católica de Chile as well as an M.A. in Hispanic Linguistics from Universidad de Chile. At Annenberg, Proust will study the journalistic narratives around social issues, particularly those related to minority representation, social movements, and gender violence. 
After earning a B.A. in African & African-American Studies from Washington University in St. Louis, Fontaine Fellow Taylor L. Smith spent a semester working as a faculty teaching assistant. Before coming to Annenberg, Smith worked as a contract researcher for the African Heritage Society in St. Louis and as a research assistant for The Oakland Community School Project. At Annenberg, she will explore Black women's unique contributions to Black textual and visual literacies with specific attention to aesthetic, memory, and archival construction.
While earning her M.A. in American Studies at Brown University, Anjali DasSarma worked as a teaching assistant for a course on slavery and digital humanities at the university. She has a B.A. in Media and Communication Studies from the University of Maryland, Baltimore County, where she was editor-in-chief of the student newspaper. At Annenberg, DasSarma will study the role of journalism in American history and contemporary society, with a focus on journalism's role in shaping society.
Both Timothy Dorr and Calvin Isch are interested in big data. Dorr has received multiple degrees from the University of Amsterdam — a B.S. in Politics, Psychology, Law, and Economics as well as an M.S. degree in Political Communication and an M.S. degree in Data Science. At Annenberg, he will work with the Computational Social Science Group to study how disinformation and conspiracy theories spread in the media. 
Calvin Isch will work with the Computational Social Science Lab and the Network Dynamics Group to study the collective dynamics of human systems and individual differences in future-oriented attitudes. He has a B.S. in Computational Science from Indiana University and a M.A.T. from Relay Graduate School of Education. Before joining Annenberg, Isch taught sixth grade math as part of the Teach For America program.
Welcome, new students! We're thrilled to have you on campus.