Valentina Proust studies journalistic narratives around social issues, particularly those related to minority representation, social movements, and gender violence. She uses qualitative methods and intersectional analysis to focus on the work of Latin American news media.   
Valentina Proust is a doctoral student at Annenberg School for Communication. Her research interests interconnect communication and language studies to observe the role of storytelling in journalism and its effects on how audiences perceive the news. She is particularly interested in how media cover topics related to social issues, such as gender, minorities, Latin American social movements, and inequalities. 
She is originally from Santiago, Chile, where she earned two Licenciaturas (one in Communications and the other in Hispanic Literature and Linguistics) at Pontificia Universidad Católica de Chile. She also holds a Master's degree in Hispanic Linguistics and a certificate in Gender Studies from Universidad de Chile. 
Prior to joining Annenberg, Valentina Proust was as an adjunct professor at Pontificia Universidad Católica de Chile, were she taught classes about research methods (Seminario de Investigación) and non-fiction storytelling (Narración de No Ficción). She also worked as a research assistant on projects related to incivility, journalistic narratives, and health discourses in social media, among others. Besides her academic work, she was a journalist for the Chilean newspaper El Mercurio in the Arts and Letters section. 
Education
Licenciatura, Pontificia Universidad Católica de Chile, 2017 
Licenciatura, Pontificia Universidad Católica de Chile, 2018
M.A., Universidad de Chile, 2021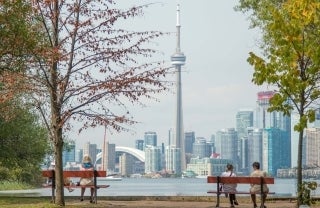 News
The International Communication Association will hold its 73rd annual conference in Toronto, Ontario, Canada.