Anjali DasSarma works at the intersection of journalism studies, race and ethnic studies, and history to better make sense of the role of journalism in American history and contemporary society.
Anjali DasSarma's research meets at the junction of community and journalistic practices, race, historiography, and equity. Her work is inspired by scholars like Michel-Rolph Trouillot, examining journalism's role in shaping society and querying the role of journalists as actors in the production of knowledge and history.
Anjali received her Bachelor of Arts in Media and Communication Studies from the University of Maryland, Baltimore County in 2021. During her undergraduate career, she was Editor-in-Chief of the student newspaper and interned at The Baltimore Sun, the Newseum, and the United States Holocaust Memorial Museum, among other institutions. Following these experiences, she completed her Master of Arts in American Studies at Brown University in May of 2022.
While at Brown, her research focused on the relationship between Indigenous slavery and the history of American journalism, and she served as a Research Assistant on the Stolen Relations project, a database that aims to archive stories of Indigenous enslavement. During this time, she also served as a teaching assistant for a course on slavery and digital humanities.
She is currently preparing a manuscript aimed at dissecting early print culture's role in brokering the slave trade.
Education
B.A., University of Maryland, Baltimore County, 2021
M.A., Brown University, 2022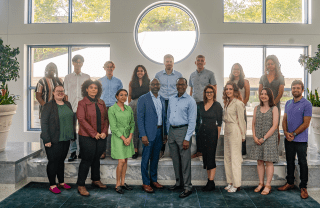 News
The 2022 cohort of doctoral students has a wide range of research interests, including perfectionism, political behavior, social movements, and more.