Devo Probol's research interests relate to digital cultures, collective identity, and political process theory. She's also interested in the social, political, and cultural consequences that result from collective identity construction in digital cultures.
Devo Probol is a Penn Presidential Ph.D. Fellow, a Fontaine Fellow, and a Joint Doctoral Student in the Annenberg School for Communication and within the Department of Sociology. She presently holds two doctoral fellowship positions at Penn, the first within the Center on Digital Culture and Society (CDCS), where she leads and facilitates the Digital Activism & Data Justice (DADJ) research group, and the second in the Center for Advanced Research in Global Communication (CARCG), where she collaborates on the "Turning Points" project that reexamines global internet histories occurring during the long 1990s, as a means to unsettle Western-dominated, Anglophone north-Atlantic narratives of internet and media history. 
A digital native and professional internet "lurker," Devo is intellectually consumed with how groups shape their collective identities online in order to understand why social movement participation has swelled in recent years. Specifically, her research explores the role that collective identity formation plays in both the emergence and sustainment of social movements originating online. In a similar line of research inquiry, she's also interested in the social, political, and cultural consequences of collective identity construction in digital cultures and how these collectives generally create political opportunities. Recently, her work has expanded to include performance studies, where she considers the role that endurance plays in these two areas of research inquiry. 
As someone who has had the benefit of working on both sides of the academic-practitioner divide, Devo believes that academic research must be accessible and relevant to practitioners since they are often best positioned to make strides in the social impact space. In a small effort to bridge this gap, Devo holds an appointment as an Associate within the School of Professional Studies at Columbia University, where she supports the teaching of Communication Research and Insights and Political Communication to graduate students in the M.S. in Strategic Communication program. Before pursuing her doctoral studies, Devo worked within the U.S. national security apparatus, working alongside the U.S. Department of State and the U.S. Department of Defense on various matters related to communication spanning 36 countries in the Asia-Pacific region. At the end of her tenure, she worked for the Chief of Staff at U.S. Indo-Pacific Command, where she served as a Communication Strategist on a team tasked with overhauling the internal and external joint communication processes of the U.S. military across the combatant command's area of responsibility (AOR).
Devo acquired her M.S. in Strategic Communication from Columbia University in 2020 and earned a B.A. in History and Religious Studies from Arizona State University in 2016. Upon graduating, she received the highest honor awarded by the university – the Dean's Medal Award for the School of Historical, Philosophical, and Religious Studies.
Education
B.A., Arizona State University, 2016
M.S., Columbia University, 2020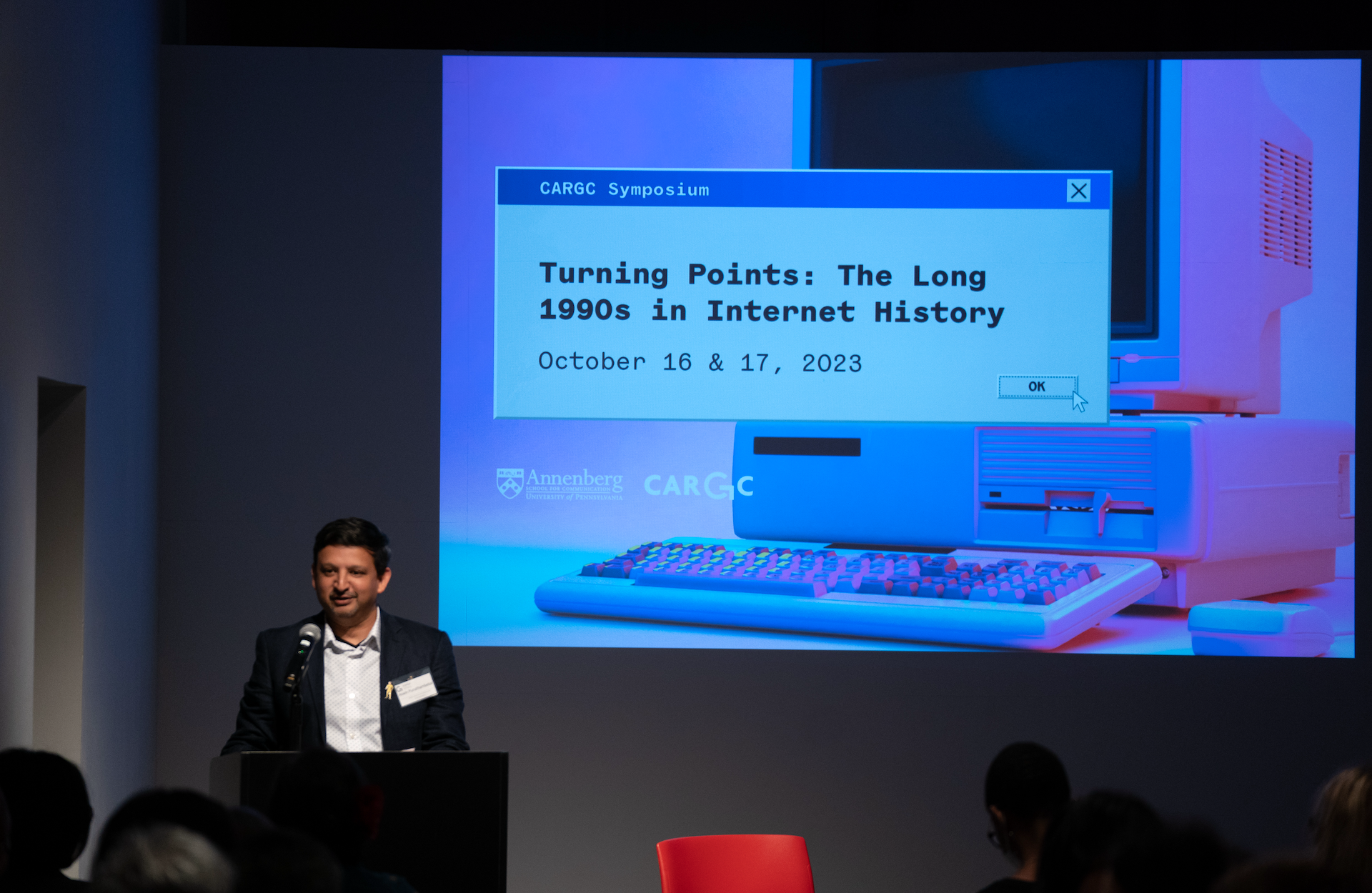 News
A conference held at Annenberg explored "the long 1990s," a period of media transformation sparked by something called the internet.