Liz Hallgren's research uses Anthropological methods to examine the role of media in destabilizing notions of democracy and citizenship and the ways in which from the ways in which from risk comes new media innovation.
Hallgren is a doctoral student at the Annenberg School for Communication. Her research brings together field-based, theoretical, and ethnographic methods to explore the journalistic practices of those in various, liminal states of citizenship. She is interested in the linkages between journalism, literature, genre, and the construction of political subjectivity — and destruction of labels like "refugee" and "citizen" — and what these linkages mean for news-making, the public sphere, and its relationship to democracy. She received her Bachelor's degree from Macalester College in English Literature and International Studies.
Education
B.A., Macalester College, 2017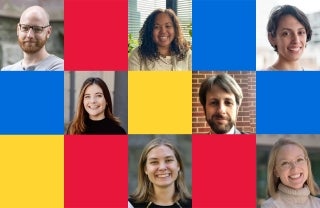 News
The 2021 cohort of doctoral students have research interests that run the gamut from political psychology to feminist activism on social media, and much more.