Louisa Lincoln's research examines sustainable business models for nonprofit news organizations.
Louisa Lincoln is a graduate of the University of Wisconsin-Madison, where she earned her bachelor's degree in Journalism and Political Science with a certificate in Gender and Women's Studies. During her time at UW-Madison, she was a public engagement and marketing intern at the Wisconsin Center for Investigative Journalism, an experience that ignited her passion for the nonprofit news industry. After graduating, Lincoln worked at NPR in Washington, D.C., as a marketing intern in the sponsorship department. Most recently, she worked in the development department at PRX — formerly Public Radio International (PRI) — in Minneapolis as a development specialist, focusing on major giving.
Using her experience in nonprofit news and public media, Lincoln studies sustainable business models for nonprofit media organizations and the internal and external factors that contribute to their financial sustainability.
Lincoln is a proud native of Minneapolis, Minnesota.
Photo Credit: Hannah Lauber
Education
B.S., University of Wisconsin-Madison, 2017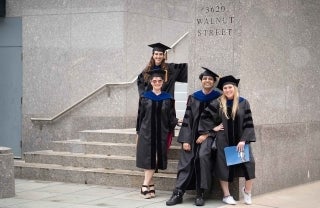 News
Eleven students earned their doctoral degrees, and 12 students received M.A. degrees.