AHA! Lab Studies How Daily Moments Impact Long-Term Behavior
The Addiction, Health, and Adolescence Lab is led by Professor David Lydon-Staley.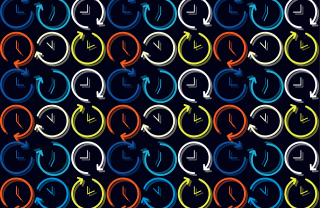 Every day, you are making countless micro-decisions, many of them unconscious: What and when to eat, when to get up from your desk and stretch, when to glance at your phone, when to say hello to someone passing by, when to take a nap.
In short, how do you spend your day?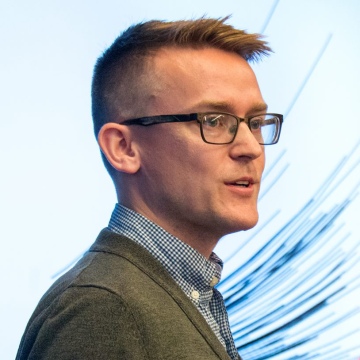 This is the central question that guides the newly-formed Adolescence, Health, and Addiction (AHA!) Lab, led by Annenberg School Assistant Professor David Lydon-Staley. He believes that mundane daily experiences, despite seemingly inconsequential, add up over time to lead to long-term, lasting behavior change, and he's deeply interested in understanding how people spend their time.
Lydon-Staley and his team — including postdoctoral fellow Amanda McGowan, doctoral student Xinyi Wang, and research coordinator Asia Vincent — investigate questions around substance use, emotion regulation, and curiosity, with a particular focus on adolescence. They do this by using smartphones to collect data on what their study participants are doing in their daily lives. Lydon-Staley considers it crucial to gather data from real life experiences.
"If you conduct an experiment in a laboratory, you have a lot of control over your participants and the paradigm they're in," says Lydon-Staley. "And that can be really interesting and useful, but it's only telling you what could happen, not necessarily what does happen in their everyday lives."
One ongoing study funded by the National Institute on Drug Abuse and coordinated by Vincent involves understanding the experience of nicotine withdrawal in people who smoke cigarettes daily. Using a smartphone app, participants answer 10 prompts a day — questions about their mood, emotions, anxiety levels, ability to concentrate, cigarette cravings, etc. — for 10 days while smoking as usual. Then the participants answer the same questions for another 10 days, but while attempting not to smoke. This data, Lydon-Staley says, will give a rich picture of how people are impacted by smoking and nicotine withdrawal and how their emotions and mood change over time. He hopes to better understand how different aspects of nicotine withdrawal are connected to one another and how the symptoms impact different people in unique ways.
"Sometimes we assume that smoking cessation attempts affect everyone in the same way," says Lydon-Staley, "but our data show a lot of between-person differences in how withdrawal symptoms are affected by smoking cessation. We're even seeing that the experience of nicotine withdrawal symptoms can be very different for the same person from one moment to the next."
Lydon-Staley recently received a Young Investigator Grant from the Brain and Behavior Research Foundation to further study the differences in individuals' experiences of nicotine withdrawal. This study will use functional magnetic resonance imaging (fMRI) scans to capture how participants' brains change over time, both when they are smoking as usual and when they are attempting to quit. The researchers aim to quantify the extent to which differences in the way activity in the brain is organized are due to differences across people, across days, and across levels of smoking satiety.
Lydon-Staley is a huge believer in the importance of curiosity, and also encourages his team to study additional topics that pique their interests. McGowan is designing a study to measure the physical activity of preschool children and the everyday behaviors their caregivers engage in that might be influencing the children's physical activity. Wang is examining the over-citation of men and under-citation of women in the field of Communication and considering questions around why this happens and how to change it. She recently posted a preprint of this work. Lydon-Staley himself has been collecting data on people's Wikipedia usage and attempting to understand why some people are drawn toward deeply understanding a few topics while others tend to read a little bit about a lot of things. He plans to build on this research to understand how media consumption is related to substance use.
"I love figuring out how to solve problems," Lydon-Staley says, "and I'm really excited to see where the curiosity of my team takes our research."