Annenberg Faculty on Queen Elizabeth II's Passing
In Penn Today, Professor Aswin Punathambekar and postdoctoral fellow Katerina Girginova give their thoughts on Queen Elizabeth II's legacy and discuss her death as a historical event.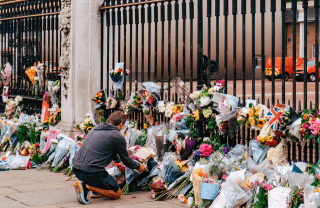 In early September, Queen Elizabeth II, Britain's longest-reigning monarch, died at age 96. Her death has been and will continue to be the subject of widespread media coverage, highlighting those in mourning while also sparking conversations reflecting on her legacy after 70 years of service. Penn Today asked faculty experts to share their perspectives on that legacy and where the monarchy goes from here. Among those experts are two Annenberg faculty members, Katerina Girginova and Aswin Punathambekar.
Aswin Punathambekar, Ph.D.
Aswin Punathambekar is a professor of Communication and director of the Center for Advanced Research in Global Communication at the Annenberg School for Communication. He gives his thoughts on the Queen's death as a media event: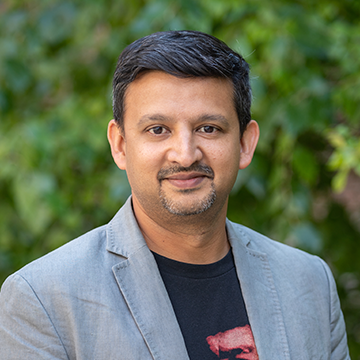 "There are few institutions that can stage global media events as well as the British monarchy. And there is no doubt that the death of Queen Elizabeth II is playing out as a carefully orchestrated media event across print, television, and digital media platforms. Media events are ritual occasions that interrupt routines—our own daily routines and those of mainstream media institutions. They are planned affairs, and even a cursory glance at stories of the Queen's death makes it clear that media institutions—and global players like the BBC in particular—had prepared for this event years in advance. 'Operation London Bridge' is as much a set of media protocols as it is about royal mourning and ceremonial processions.
The range and depth of storytelling also makes it clear that audiences in the U.K. and across the world are expected to regard this as a historical moment, one we should all be concerned with, and that will surely become part of collective memory. Moreover, when the BBC and other media institutions produce hours of programming, they are also offering a framework for making sense of the Queen's place in British history. And as in other such events involving the British monarchy, from weddings and coronations to scandals and funerals, the media do bring incredibly diverse and fragmented publics together into a shared national space.
That said, in a decidedly global and digital media world, a range of counternarratives also emerge, becoming part of the meaning-making process. Social media platforms including Twitter and TikTok are crucial spaces where a range of voices from across the world insist that we also remember Queen Elizabeth's role in legacies of empire, slavery, and colonial violence. In a moment marked by xenophobia and anti-immigrant politics in the U.K., citizens all over the world—Irish, Indian, Kenyan, Caribbean, and other parts of the so-called 'commonwealth'—are chiming in to remind us of the histories being silenced and the dangers of indulging in imperial nostalgia."
Katerina Girginova, Ph.D.
 Katerina Girginova is a postdoctoral fellow researching global events and audiences at the Annenberg School for Communication's Center for Advanced Study in Global Communication and Center on Digital Culture in Society, and co-founder of The Annenberg Virtual Reality ColLABorative. Her remarks follow: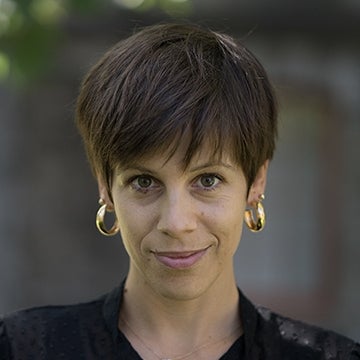 "For many people around the world, Queen Elizabeth II represented great poise and tradition. As the longest reigning British monarch, the Queen also became a seminal figure guarding over our important social events. One would expect to see her at holidays, memorials, royal births, and weddings and as such, the Queen took on a special significance in the collective formation of memories for generations of people around the world. Her presence at once signified an important event and reified the societal values around grand concepts like birth, death, and time.
While the hard business of politics had officially long transitioned into the hands of those in Parliament, the Queen took on the largely symbolic role of leading softer politics and public relations in the U.K. and abroad. This role was made possible with the tremendous help of the media and, specifically, the BBC. Indeed, the latter was seminal in creating the modern global image of the Royal Family, but it is also important to also acknowledge the tightly knit symbiotic relationship between the two.
It is widely recognized that the televising of the Queen's Coronation in 1952 turned the BBC into a household name by giving the public unprecedented access to the spectacle of the Royal Family from the comfort of one's home. In short, the Queen's image was instrumental in ushering in the very infrastructure behind the many media events to which we have become accustomed today. With her passing, Queen Elizabeth II gives us her one final media event. This event interrupts many daily routines and becomes a collective experience, a meditation on our past, present, and future that will undoubtedly carry as many meanings as it has members.
To further underscore the magnitude of her life, the event of the Queen's death and the days of rituals that will follow will result from careful planning that began decades in advance. The details of what is to come, laid out under the code name 'Operation London Bridge,' depict a transitional period marked by rituals of mourning as meticulous and poised as the Queen's life itself."