CARGC Press Releases CARGC Special Report by Sara García Santamaría
Beyond "Technological Exception": Emerging Debates in Cuban Independent Journalism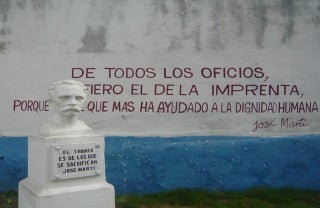 The Center for Advanced Research in Global Communication at the Annenberg School for Communication is proud to present the first CARGC bilingual publication: CARGC Special Report, Beyond "Technological Exception": Emerging Debates in Cuban Independent Journalism by Sara García Santamaría. Available in English and Spanish languages, this report examines the latest developments in the emergent wave of Cuban independent journalism, taking a special look at the impact of both digital technologies and recent regulation.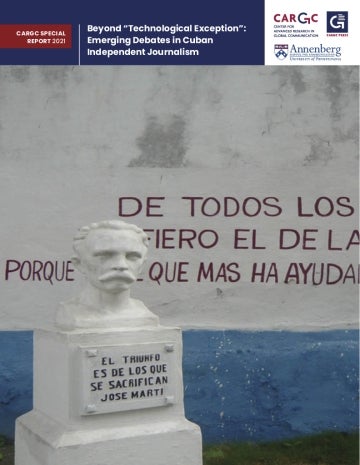 In her introduction, CARGC Graduate Fellow Mariela Morales Suárez notes that CARGC Special Report by Sara García Santamaría "makes a crucial and timely contribution to current understandings of Cuba's mediasphere, its mythologized technological exceptionalism, and the impact of digital technologies on the practice of independent journalism at a critical moment for the Caribbean nation [marked by the protests of July 11, 2021]". She further asserts that "independent journalists have been crucial in the covering of the protests as well as their aftermath" and García Santamaría's report "uncovers how and why independent journalism grows on the island within a hostile environment."
Sara García Santamaría is an Associate Professor at Universitat Jaume I and Universitat Blanquerna – Ramon Llull in Spain. She holds a Doctorate in Journalism Studies from the University of Sheffield (UK), where her research explored how the Cuban state-run media constructs the role of the people in public debate. Having completed her Ph.D., García Santamaría became a research fellow at the Annenberg School for Communication, University of Pennsylvania, in 2018, leading a Joint Digital Rights and Internet Freedom Research & Advocacy Project. Her doctoral and postdoctoral work emphasizes the importance of overcoming binary discourses and accounting for the social complexity of a changing media environment in Cuba. The CARGC Special Report represents a continuation of her work, particularly in light of the shifting and volatile media environment that Cubans and Cuban journalists are currently experiencing.
Download CARGC Special Report in English here.
Download CARGC Special Report in Spanish here.
Read previous CARGC publications at ScholarlyCommons.