Doctoral Student Elisabetta Ferrari Studies Activism and Technology
Ferrari researches how social movements use digital technologies, and how activists think about technology personally and politically.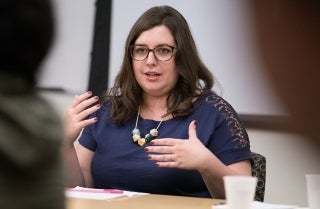 Washington update: he's more weird than @NicolasSarkozy but less weird than Silvio Berlusconi," tweeted German Chancellor Angela Merkel.
Funny? Yes. Written by Angela Merkel? No.
Some of the most popular accounts on Twitter are parody accounts that poke fun at celebrities, professional athletes, politicians, and other notable figures. Parody accounts aren't bots. They're run by humans — just not by the humans they parody.
Over the last 2 years, Elisabetta Ferrari, a third year doctoral student at the Annenberg School, has been studying a group of parody accounts that satirize Italian politics. She calls these accounts "user generated political satire."
"I find these accounts very funny, witty, and smart, and I think they give a unique look into the state of satire and politics in Italy," Ferrari says. "These are people who have a lot of knowledge about history and politics who aren't in academia, and we need to hear from them."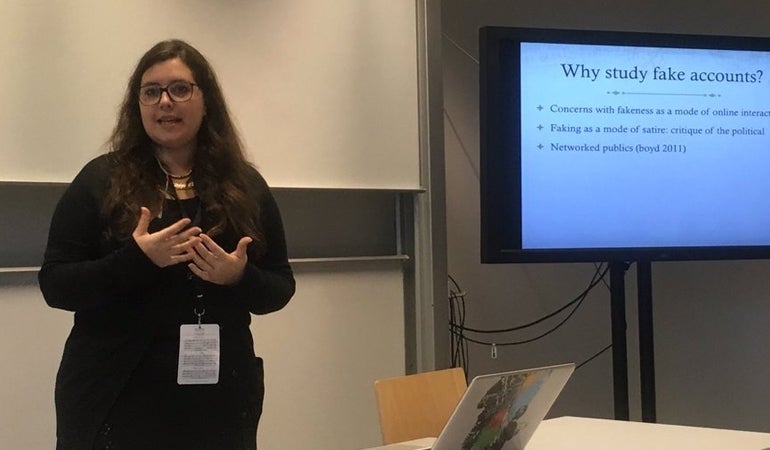 Ferrari was born and raised in Italy and has a history of political activism there, so this project meshes her academic and activist interests. Ferrari was elected as the leader of Studenti di Sinistra, a national student organization in Italy, when she was 20 years old, and that early activist experience shaped her academic trajectory.
"As a teenager and a young adult, I lived the things that I'm now studying in an academic setting," she says.
Ferrari is broadly interested in protests, social movements, activism, and digital technologies. She researches how social movements use digital technologies, but also how activists think about technology in their daily lives and in terms of their political agendas. She asks questions like: How do you organize using the internet? What is the meaning of alternative websites? What are the internal dynamics of organizing?
She uses a comparative approach, studying multiple contexts and considering how politics, activism, and technology are different in different parts of the world. Ferrari's focus spans across the United States and Europe, and she's studied the 1960s anti-war movements in America, the 2014 Hungarian internet tax protests, and how activists can appropriate Facebook and other social media platforms for their political struggles.
Ferrari has a B.A. in International Relations from the University of Bologna in Italy and an M.A. in Political Science from Central European University in Hungary.
"I definitely bring the Political Science sensibility to my research," says Ferrari. "I'm always thinking about what the political implications are of what I'm studying. How is this political, and how is it not?"
Her work is also influenced by her experiences in European contexts. In addition to living in Italy and Hungary, she also spent some time in Germany working for an NGO. She speaks English and Italian fluently, is conversational in German, knows a bit of French, and speaks what she calls "restaurant Hungarian."
"In Europe, political science is always comparative," Ferrari says. "There are many countries in the European Union, and they all have a different political trajectory. It's important to learn from one another, so I bring that attitude to my work. Even if I'm focused on a particular area of communication research, I'm always interested in learning what's happening in other areas."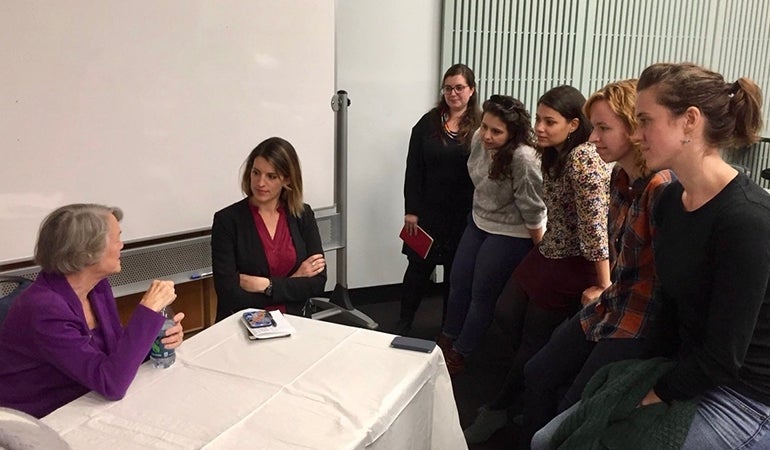 In addition to coursework and research, Ferrari is also involved with the Media Activism Research Collective (MARC) at Annenberg. Led by her advisor, Professor Guobin Yang, MARC is a collaborative, interdisciplinary space at the intersection of media studies and social movement theory. The group aims to offer both academic and practical events in media activism. They also curate a blog focusing on media activism around the world.
"MARC has proven to be a great space to meet other people who are interested in the same things I am," says Ferrari. "And we've been trying to do things that go beyond the boundaries of Penn. Philly is a great city for thinking about activism and media activism, and we try to make the most of that."