Global Media Scholar Juan Llamas-Rodriguez to Join Annenberg Faculty
Llamas-Rodriguez's research interests include media representations of the U.S./Mexico border and the proliferation of media content that transcends borders.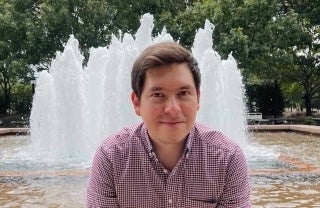 After moving to the U.S. for his Ph.D. in Film and Media Studies at the University of California, Santa Barbara, Juan Llamas-Rodriguez was intrigued to find a prevalence of small groceries or corner stores that always seemed to have a small stand selling cheaply-made b-movies about the U.S.-Mexico border. The narcotrafficking caricatures were reliably present: a rugged lone cowboy, a rundown desert setting, a drug trafficker surrounded by women who shoots his way out of everything, corrupt law enforcement agents, big pickup trucks, and even bigger guns.
Born and raised in Mexico, Llamas-Rodriguez became fascinated by the way drug trafficking and drug violence there were becoming global cultural phenomena through media, from low-budget b-movies to Hollywood blockbusters. It became the focus of his dissertation.  
As an assistant professor of Critical Media Studies at the University of Texas at Dallas, Llamas-Rodriguez has continued to study both media depictions of borders as well as the dynamic impact that globalized media like Netflix is having on all corners of the world. 
On July 1, he will bring his scholarship to the Annenberg School for Communication at the University of Pennsylvania as an assistant professor of Communication.
When Llamas-Rodriguez left Mexico to do his bachelor's degree at the University of Toronto, he imagined himself pursuing a career in international relations. But after a year, he found himself less interested in the practice of international relations and more interested in the goal: to understand the sociopolitical composition of the world and how power flows across borders. 
In media studies, he found an intellectual home.
"Media institutions are the power brokers of the modern world," says Llamas-Rodriguez. "Conglomerates control not only what we watch, but our access to the internet. The amount of power concentrated in a few hands is staggering — and troubling."
His first book, Border Tunnels: Media and the Infrastructure of the U.S.-Mexico Frontier (University of Minnesota Press, 2023), explores the way that media from reality TV to newscasts to video games have created public imaginaries around border tunnels. 
After all, Llamas-Rodriguez points out, even people who live close to the border tunnels almost never see them in person. Walls are visible, but tunnels are not. It is through media that we imagine them.
"Media is central to how we think about the fact of geopolitical borders, how they're constituted, what they can and can't do, and how we can undo them," he says. "These are topics I explore through a figure that is usually not in public view except through media."
He is also writing a book on the queer geneaologies of the film Y Tu Mamá También, which he sees as a pivotal film in many ways for the Mexican film industry.
Llamas-Rodriguez's scholarship is not only in print-form. When the pandemic disrupted his Global Media Cultures class in 2020, he brainstormed how to engage his students remotely. Because his was the only non-U.S. course in the degree program, traditionally he needed to lecture before each class to provide context and background. 
While the idea of 40-minute lecture videos did not sound engaging, he realized that people have more of a tolerance to listening while they do other things, like drive or clean the house. What he needed, he realized, was a podcast. 
"My idea became, 'What if I introduce the people whose readings we're going to do, and let them provide the context and background?'" he says. "I emailed them, and they all said yes."
Gradually he began hearing from colleagues who were using the podcasts in their own courses, not to replace the readings, but to augment them. 
"The podcasts augment the readings with answers about how the authors came to the research and what challenges they had," he says. "A lot of these things don't end up in the peer-reviewed article, but it's so much of what's interesting about research."  
The Global Media Cultures podcast worked so well that it continued for a second season, and has become independent of the course. Llamas-Rodriguez looks forward to continuing to produce it at Annenberg. 
Another project Llamas-Rodriguez is actively involved in  is the Global Internet TV consortium, which was founded out of a realization that Netflix was moving into different global markets, and many researchers were studying the same phenomena in different national contexts. He first joined the consortium at the International Communication Association conference in 2017. The network has now grown to more than 15 researchers and expanded into the many streaming platforms that are proliferating globally.
Llamas-Rodriguez's creative, multimodal, and methodologically-rich scholarship is part of the reason Dean John L. Jackson, Jr. finds his hire so exciting for Annenberg. For example, Llamas-Rodriguez recently made a board game to help illuminate issues about sustainability and border infrastructure. 
"We continue to think about the most effective ways to make sure our students are methodologically rigorous and invested in ambitiously expansive definitions of scholarly possibility," says Jackson. "Juan's scholarship represents the outcome of just such priorities."
At Annenberg, Llamas-Rodriguez looks forward to collaborating with the Center for Advanced Research in Global Communication (CARGC). In fact, his only ever visit to Philadelphia came in 2018 when he attended a CARGC symposium on decoloniality and popular culture. He will move here next month having done both his job talk and campus visit virtually. 
"When I was there, it was great seeing all the community, the doctoral and postdoctoral fellows, and all the events that were going on," he says. "Everyone I know who lives in Philadelphia has good things to say. I'm feeling very excited!"