Vasudevan Receives Eyebeam Fellowship and James D. Woods Award
Vasudevan is being recognized for her work as a data artist and teaching fellow.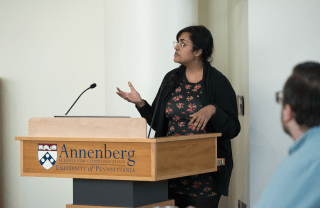 Doctoral student Roopa Vasudevan has been receiving quite a bit of much-deserved recognition as of late. In April, she was awarded a grant from the Sachs Program for Arts Innovation, and now she's received both a 2020 Eyebeam Fellowship and the 2020 James D. Woods Award.
Eyebeam, a New York City-based organization supporting diverse, impact-driven artists working with technology, has launched a new initiative after being forced to close its doors by the coronavirus pandemic. Entitled "Rapid Response for a Better Digital Future," the initiative will fund 30 projects that shine a spotlight on a digital future free of surveillance, including one by Vasudevan.
Vasudevan plans to design a practical toolkit for creative resistance through tech-based art. Concerned by the ways that new media art practice often ends up furthering Silicon Valley's agenda, Vasudevan hopes that by developing new mechanisms for creative refusal, she and other artists can eventually break the current cycle of co-optation and dependency, and use their art to bring about structural change.
"I have admired the work coming out of Eyebeam since I first began practicing as a media artist, so it means a lot to me to be participating in the Rapid Response program," Vasudevan says. "I am honored to be part of an artist cohort thinking through ways toward more equitable, accessible, and humane digital futures. The proposal for this project emerged directly from research I have been doing at Annenberg over the last two years, and I am very excited to have the chance to expand on these ideas through an art- and practice-driven methodology."
Given in memory of Annenberg School graduate student James D. Woods, the Woods award is presented to an outstanding graduate teaching assistant each year. Vasudevan was nominated for Matthew Brook O'Donnell's undergraduate courses COMM 318: Stories from Data and COMM 313: Computational Text Analysis.
O'Donnell's courses involve teaching basic programming and data analysis to students without any coding background so that they can apply these skills to a Communication focused data science project. He describes this as a challenging proposition for students and a potentially extremely difficult task for a teaching fellow.
"Roopa has excelled in this role," says O'Donnell, Research Assistant Professor. "She was able to bring a very rare set of technical skills and teaching experience along with an active and productive research program in data science and data art to these classes. She is an experienced and able programmer who is able to effectively explain core concepts to learners."
O'Donnell lauded Vasudevan's dedication to her teaching fellow responsibilities and her interactions with students. He says the students "spoke in glowing terms" about Vasudevan and that they were "particularly engaged and excited by" her research and data art portfolio.
Vasudevan's doctoral research, which is interconnected with her artistic practice and teaching responsibilities, considers the ways new media artists are bound by the aims and priorities of those who control the technologies on which they rely for their work, and investigates modes of resistance that do not ultimately reinforce the dominance of these systems.