Aging on Screen and on the Page: Changing Depictions of Older People in the Media
A conference held at Annenberg took a deep dive into how gender, age, and aging are portrayed in the media, and the implications for society.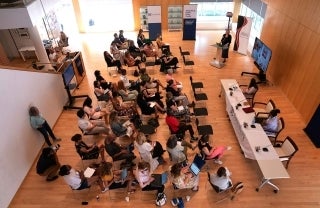 When Queen Elizabeth II died last year, the official register records her cause of death as "old age." News of this curious disease reverberated, unquestioned, across the media. The aging of the baby boom generation has been repeatedly dubbed "the silver tsunami," likening the longevity of tens of millions of Americans to a deadly natural disaster. 
The way aging is portrayed in the media — a disease, a disaster, a decline in value — is often dismissive and discriminatory, particularly when it intersects with gender. After all, it has long been a cultural norm that older men are "distinguished" while older women are diminished in societal value and erotic appeal.
On September 7 and 8, a symposium at the Annenberg School for Communication at the University of Pennsylvania brought together scholars and media-makers to think critically about how aging was, is, and should be depicted in the media, and how these portrayals have real lived consequences. Entitled "The Stories We Tell: Gender and Getting Older in the Media," the two-day event was organized by the Annenberg Center for Collaborative Communication (C3), directed by Sarah Banet-Weiser, the Walter H. Annenberg Dean of the Annenberg School. C3 is a joint center of the Annenberg Schools at Penn and USC.
Aging and the Media Today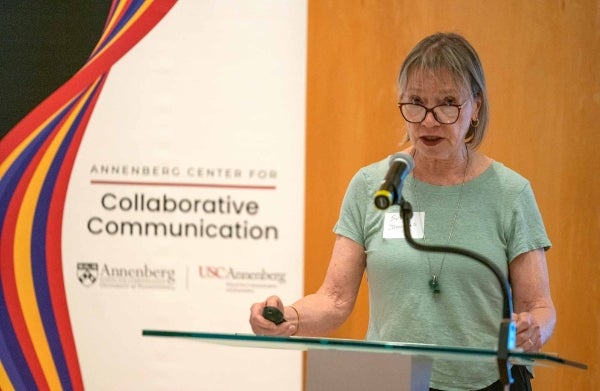 During the opening keynote panel, Susan Douglas, the Catharine Neafie Kellogg Professor and Arthur F. Thurnau Professor of Communication and Media at the University of Michigan, opened with context around the key themes of the conference.
There are more women over the age of 65 than there have ever been in our nation's history, and they are healthier, living longer, and working longer. 
"One of the greatest achievements of the 20th century and beyond has been extending longevity," said Douglas. "One of its biggest failures is how to reconcile that with the fact that no one wants to get old — except for the alternative. We want to live longer, but we don't want to age."
These standards often don't apply to men, who can be seen as "rugged" or "distinguished." In talking about Kevin Costner's depiction in the popular show Yellowstone, panelist Brenda Weber, Provost Professor and Jean C. Robinson Scholar in the Department of Gender Studies at Indiana University Bloomington, pointed out that Costner's eye wrinkles are practically another character on the show. 
Aging can make women feel diminished and irrelevant, but it isn't just about looks or perceived sex-appeal.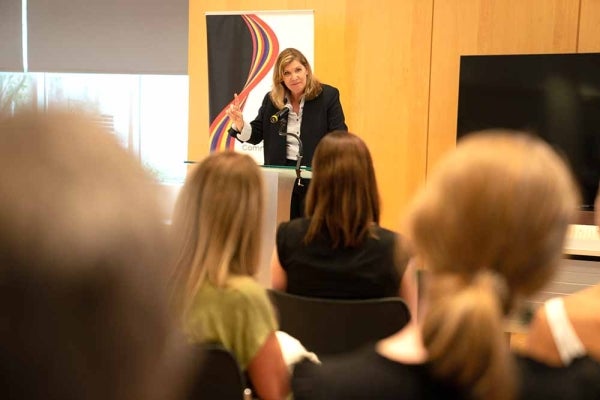 "There are real material and financial consequences of this ageism," said Banet-Weiser, noting that age is typically left out of workplace diversity initiatives. With women living an average of seven years longer, the decades-long attacks in the U.S. on Medicaid and Medicare also mean that cuts disproportionately hit women. 
But the news is not all bad. There are clear trends toward highlighting older women in ways that don't simply cast them in the role of grandma. Films like 80 for Brady, TV shows like "The Golden Bachelor," and podcasts like Julia Louis Dreyfuss's "Wiser Than Me" are celebrating older people in non-stereotypical ways. 
At the same time, well-intentioned attempts at inclusion can still fall back on ageist beliefs.
Banet-Weiser noted that the star of the "Golden Bachelor" is described in the show's marketing alternately as a "grandpa" and a "patriarch" — both terms rich with connotation.
American news is also filled with heartwarming stories of octogenarians who are skydiving or biking across the country.
"Pretending to address aging by highlighting people who don't seem old, who don't have any of the physical, financial, other kinds of challenges that go with aging — I'm going to applaud these folks, but I find these stories unsatisfying," said Paula Span, who writes The New Old Age column for The New York Times.
Span also spoke about the challenges of illustrating a second column, Generation Grandparent, without relying on tired representations of aging.
"Most Americans become grandparents in their 50s," she noted. "They are not wearing white hair in buns. Most of them do not yet need canes."
Don't Say "Old"
Even more fraught are the terms used to describe aging. Span noted that many readers object to "old," "seniors," "elderly," and "elders." Many organizations, including The New York Times and AP, recommend "older people," but even that is unsatisfying.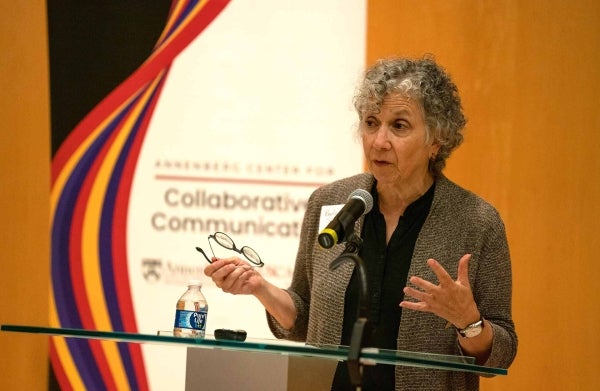 "There is no euphemism that is euphemistic enough to describe old people without ticking them off," said Span. "What people really object to is not the terminology, it's the status. It's the fact of being old, which is so devalued, such a source of dismay and discrimination and even shame, that no change in nomenclature can really fix that. The only change that I see that can fix that is the anti-ageism movement — making it acceptable to be old."
An entire industry wants to sell women skin and hair products, cosmetic procedures, and prescription drugs, all to push an idea of what Douglas calls "aspirational aging." The pressure to "defy aging" begins in a woman's 20s, turning the inescapable human process of aging into a lucrative market. 
In the spirit of neoliberal self-reliance, added Douglas, aging women must constantly work to sustain, transform, and reinvent themselves into "a whole new you" — and do so in the face of reduced social support and soaring health care costs.  
It is no wonder, then, that the media also reflects women of all ages banding together to support one another in the face of these hardships. Jo Littler, Professor of Culture, Media and Social Analysis at Goldsmiths, University of London, describes this as "female welfare friendships" in which women negotiate the inadequacies of our welfare systems.  
"These women show the difficulties of thriving and surviving in patriarchal worlds," said Littler. "Female friendship is offering a solution in the form of social support against alienation, sharing troubles, reworking lives, and providing group material support." 
New Visions
In many ways, the symposium was inspired by Wallis Annenberg, Chairman of the Board, President, and CEO of the Annenberg Foundation and daughter of the founder of both Annenberg Schools, Walter Annenberg. 
"Her care and investment in changing the story about aging was the initial motivation for organizing this symposium in the first place," said Banet-Weiser.  
One of those investments is the Wallis Annenberg GenSpace, an innovative community center in Los Angeles for older adults, a demographic that includes one in five Americans.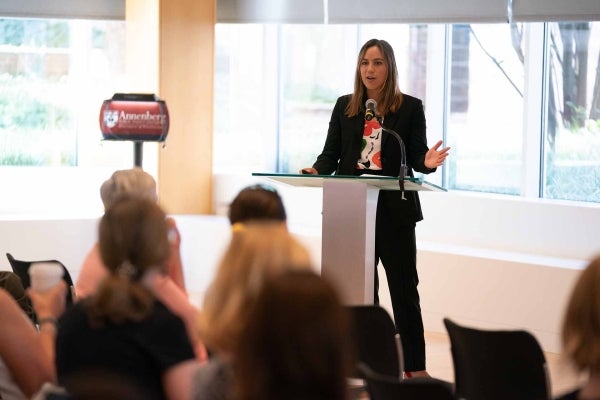 GenSpace director Jennifer Wong spoke at the conference, explaining how American communities are not set up for Americans to be living nearly a decade longer than they were in the mid 20th-century. GenSpace offers something that is curiously rare in America: an anti-ageist, inclusive community for people who are too often isolated and left out. 
Just a few miles to the south, Hollywood, Health & Society (HHS), a project of the Norman Lear Center at USC Annenberg, is helping Hollywood productions "get it right" in how they portray different medical and societal issues. In recent years, they worked with the show "This is Us" to accurately portray a character's Alzheimer's disease. 
HHS Program Specialist Roberta Cruger explained how a gerontologist worked with the actors and producers to, for example, help them understand how a cell phone can be a lifeline for someone experiencing disorientation related to Alzheimer's. 
"This is Us" was mentioned several times throughout the conference, and several attendees studied how the portrayals of aging on the show impacted viewers. 
Norman Lear Center Senior Researcher Soraya Giaccardi noted that the show's adult caregiving elements were unusual.
"Care usually doesn't happen on screen," she said. "It is almost always caring for children when it is shown."
Giaccardi found that viewers were complimentary about the show's realism, while noting that this family's ability to afford professional homecare is not typical. 
More than a quarter of viewers Giaccardi surveyed reported that they discussed their care wishes with a loved one after watching the show, and a similar number asked a loved one about their care plan. 
"These are very high numbers [for taking action in response to a TV show]," said Giaccardi.
Beth Hoffman, an assistant professor at the University of Pittsburgh School of Public Health, studied viewers' responses to a situation in the show where one son disagrees with another son about their mother's care. While Hoffman anticipated that viewers would identify with one brother or the other, she found that many people identified with both, showing how difficult and unclear care decisions can be.
Aging is Intersectional
Ageism is a structural issue, pointed out Banet-Weiser, but one that impacts differently depending on community, identity, demographic, cultural understanding. 
Numerous presenters noted that many of the role models for healthy aging in the media unfortunately tend to be affluent, white celebrities. 
"We need intersectionality to understand what ageism means," Banet-Weiser said. "Our speakers made it very clear that ageism doesn't impact people in the same way at the same time, with the same effects."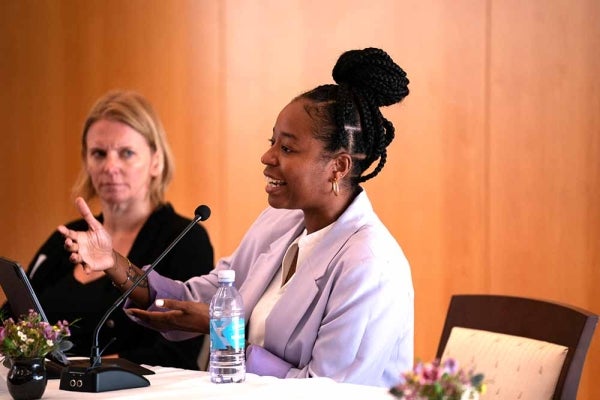 As an example, University of California, Irvine Assistant Professor Philana Payton's research has explored the question of how the experience of aging may be different for Black actors. 
Citing numerous historical examples, Payton found that for white actresses in the golden age of Hollywood, film roles held the most prestige, and television work was seen as lesser. Because opportunities for Black women were fewer, they had long moved fluidly among TV, movies, live performances, and other types of roles. She pointed to Diahann Carroll as someone who would sometimes shift to night club performances when other roles didn't manifest. 
For many of them, reaching old age was a triumph and not something to be feared. 
University of Miami Associate Professor of Media Studies Alfred L. Martin, Jr., who described himself as "an unabashed 'Golden Girls' fan," spoke about how a show starring four older white women became one of the top 10 shows in Black households.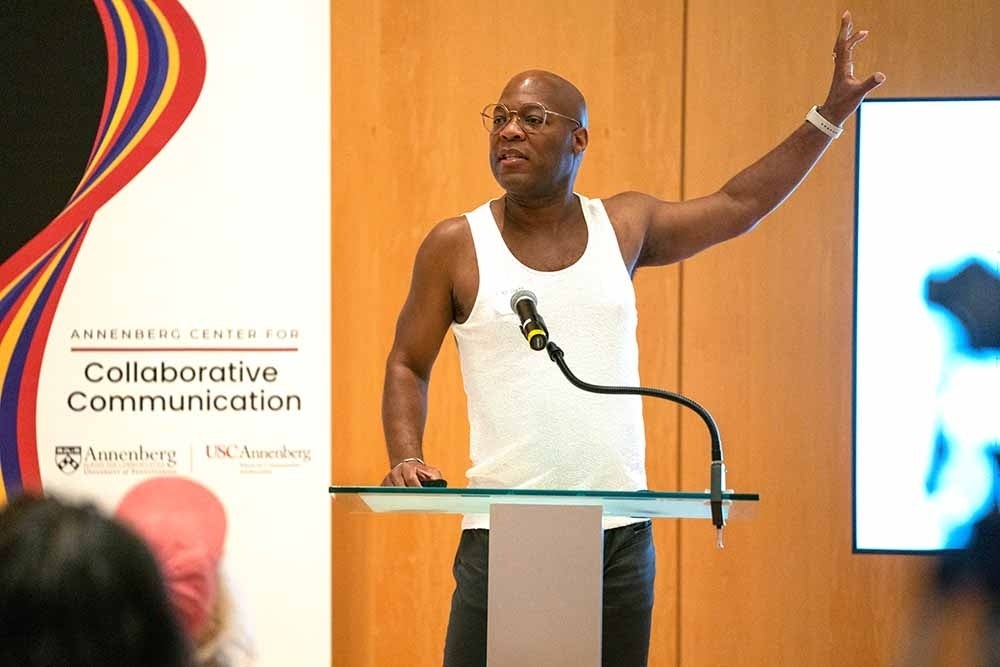 As women living together for financial reasons and navigating issues of love, sex, personal finance, and aging, the Golden Girls, he argued, are an example of "resonance, rather than representation." 
In the "Golden Girls," "viewers aren't looking to be seen, or feel seen, or understand their Blackness" he said, "but there are a host of resonances that just sit right and feel right."
The problems of aging are also quite different depending on a person's income level. Susan Douglas pointed out that 35% of American women over 65 are poor, or nearly so. For them, the idea of "aspirational aging" with its diet, exercise, cosmetic procedures, and copious face creams and serums can be out of reach. 
Nor can most Americans afford the expense of nursing homes. Douglas often asks her students to estimate what percentage of Americans are in nursing homes. They guess 20 - 50%, when the real number is 2.4 - 4.6%. 
Menopause Trending
Three scholars from the U.K. shared their work on menopause in the media, demonstrating both the positive ways in which increased media coverage is making menopausal women feel seen as well as the downsides of that visibility. 
LSE Professor of Media and Communications Shani Orgad quoted from a classic 1966 book about menopause, which described it as a "tragedy" and "living decay." 
Modern interpretations tend to be more neoliberal and postfeminist, talking about individuals "taking charge" in an aspirational fashion. 
As Orgad showed, in just the last few years, there has been a dramatic uptick in media coverage of menopause in the U.K. The frame is still biomedical, she said, but there is now more talk of the experience as self-transformation, empowerment, liberation, and ownership.
The reasons for this increase, said Catherine Rottenberg, Professor at Goldsmiths University, include having more older women in positions of power, the expansion of the aging female population, an increase in older women in the workplace, pharmaceutical advertising to this market, cuts to pensions and benefits in the U.K. following the 2008 economic crisis, and anti-transgeder views that link biological womanhood to the body.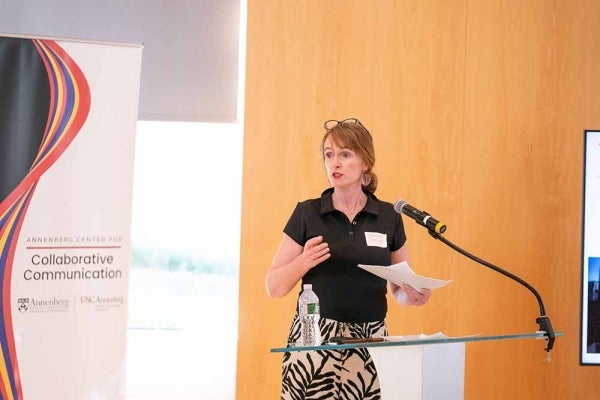 Deborah Jermyn, Associate Professor of Film at the University of Roehampton, also made a strong case that a television documentary by popular broadcaster Davina McCall caused demand for hormone replacement therapy to surge in the month after the broadcast, and that McCall's influence — "the Davina effect" — has been landmark in the U.K. (Not all medical professionals feel it is a plus, however, with particular complaints about overmedication.)
Making Progress
While society certainly has a long way to go in the acceptance of older people, many speakers talked about the increase in roles for older actresses, from Jean Smart in "Hacks" to Jennifer Coolidge in "White Lotus," to the all-star cast of "80 for Brady." While representation is just a beginning, these roles deviate from the classic stereotypes of tech-phobic, dottering grandmas.
Representation isn't everything, but it does matter.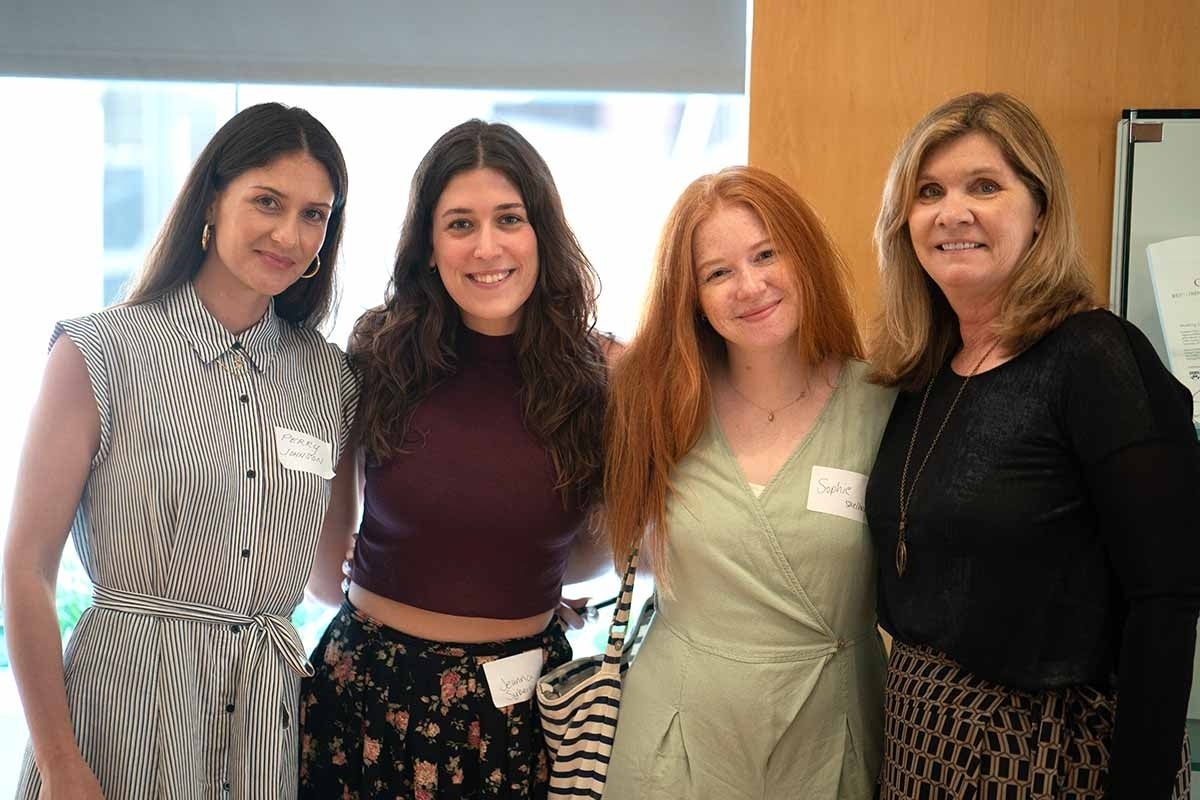 "Being sidelined or marginalized in the media interlocks with being sidelined or marginalized in work, government policies, and everyday life," said Susan Douglas. 
But societal attitudes do evolve, and we are seeing pushback on ageist stereotypes from celebrities, government officials, and everyday women. 
From representation, we need to move on to action. 
"We need to push back against this understanding of age as a diagnosis," said Banet-Weiser.  "The conversation should be about community and care… We need to think deeply about what it means to be interdependent in this world, caring for multiple generations. How do we form community around these kinds of issues?"