Aymar Jean Christian (Ph.D. '12) Launches Web Series "Two Queens in a Kitchen" To Showcase LGBTQ Artists of Color
The series features artists, LGBTQ identifying individuals, and people of color discussing important social issues while making a healthy snack.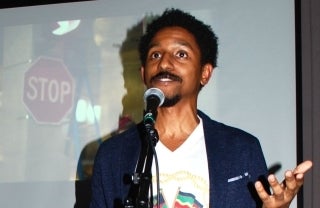 A call for "quiet on the set" opens the first episode of a new web series "Two Queens in a Kitchen," produced by Open TV. One of the two "queens" on this episode, Annenberg alumnus Aymar Jean Christian (Ph.D. '12), waxes poetic on the best way to make television.
"I like the metaphor of slow television, like slow food," he says in the episode, while preparing boogie savory toast. "Making television at the pace that you want to make it in and that people are ready to make it in. As opposed to trying to force it, making 30, 40 episodes of something and spending millions and millions of dollars."
Christian, Assistant Professor of Communication Studies at Northwestern University, is not just the star of the first episode, but also founder and head of development of Open TV, an internet platform producing and distributing indie series for and by artists.
Christian describes "Two Queens in a Kitchen" as a turn-to-relevance series, meaning it seeks to provide a relevant and accurate representation of life. The cooking show features members of the Open TV community — artists, LGBTQ identifying individuals, and people of color — discussing important social issues and their current work while making a healthy snack.
While the website does provide recipe information, the show isn't as much about cooking as the idea that people congregating in kitchens often have challenging, meaningful conversations.
"There's just as much complexity and depth in the queer color community as in any other community," Christian says. This belief guides all of Open TV's programming, which currently includes six series and four pilots, for a total of nine and a half hours.
Born out of Christian's dissertation research, Open TV has long been in the making. While at Annenberg, Christian began examining how digital technology transforms the television business. He focused on the independent web series market and on independent producers who make their own shows and deliver them directly to fans.
"As I was studying this market, it was maturing. My argument that the internet was changing television was coming true," Christian says.
However, by the time Christian finished his dissertation work and moved to Chicago to teach at Northwestern, the market was still lacking, he says. He had anticipated that the growth and success of independent television distribution platforms would result in more shows focused on characters with intersectional identities. But this wasn't really happening.
The most prominent missing representations were those of anyone identifying as two or more of the following: woman, person of color, or LGBTQ. In addition, Christian noticed that his personal network was made up of talented people who weren't seeing themselves represented on network television – because they identified as the very groups he'd noticed weren't being represented.
Christian decided to start Open TV as an experiment in television production and distribution.
"The internet opens television to innovation, and I wanted to continue that work," Christian says. "I wanted to create television by and for people with intersectional identities."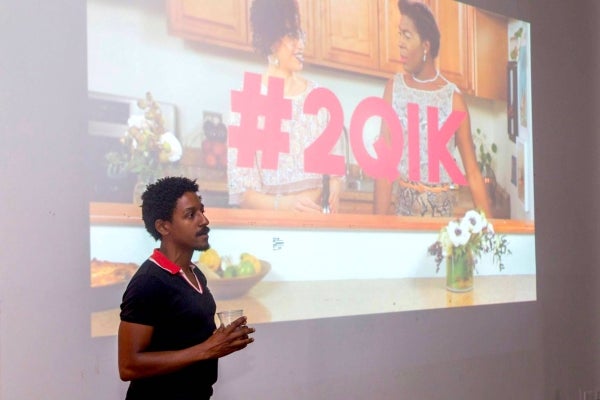 Guided by a method sometimes called participatory action research, Open TV works with independent artists to produce queer television. Christian believes network television is largely unrepresentative of America's people, and as the population continues to diversify, the importance of representing all identities becomes even more important.
"Queer television isn't just for people who identify within the LGBT community," Christian says. "Queer also involves the expression of sexuality across the intersectionality of other identities, including people who identify at the edges of the race or gender categories."
One example he gives is the representation of romance. Christian argues that romance undergirds almost every television show, but the spectrum of romance presented is fairly limited. A few network shows may feature LGBTQ characters or actors of color, but the romance narratives most widely portrayed on network television focus on heteronormative, white characters.
In addition to creating content for underrepresented audiences, Christian hopes to use Open TV to gather data on both media publication and media development. Open TV is one of the few research projects in Media Studies to bridge the gap between development of content and reception of content by the audience.
"At Annenberg, the doctoral program covered multiple methods for studying communication. We focused on industries and institutions." Christian says. "That exposure was integral to my development as a scholar and to the development of my research."
Full episodes of Season 1 of "Two Queens in a Kitchen" are available on Open TV's website.