After 41 Years, the Union for Democratic Communications Conference Returns to Philadelphia
The organization, dedicated to creating connections between academics, media makers, analysts, and activists, has a rich history that involves many early members of the Annenberg community.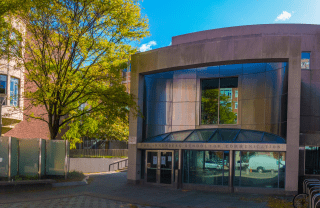 From October 12 to 15, the Union for Democratic Communications (UDC) Conference will be held at the Annenberg School for Communication at the University of Pennsylvania, a few blocks from where the organization held its first conference in 1982.
This return is special, says Victor Pickard, C. Edwin Baker Professor of Media Policy and Political Economy at Annenberg, as many of the UDC's early members have affiliations to the School, including Professor Emeritus of Communication Oscar H. Gandy, Jr.; Eileen R. Meehan (M.A.C. '75); Dan Schiller (Ph.D. '78), and James Miller (Ph.D. '81).
The UDC stemmed from a DIY newsletter created by a group of doctoral students at the University of Illinois Urbana-Champaign in the late 1970s.
"We wrote it on a typewriter, copied it using a mimeo machine, and sent it out by snail mail to an increasing number of people who were developing approaches to studying communications and media critically," says Janet Wasko, one of the founding members of the group and speaker at the 2023 conference.
By 1981, the collective of graduate students realized that the newsletter, then called "Communication Perspectives" was more than just a few folded pages in the mail; it was a crucial point of contact between Communication researchers and media makers, policy analysts, journalists, and grassroots media activists. 
The students, along with the newsletter's many readers and contributors, decided that a membership organization would be the best way to connect. An organizing group, including Gandy, then a professor at Howard University, met in Philadelphia at the International Conference on Culture and Communication and the UDC was officially formed.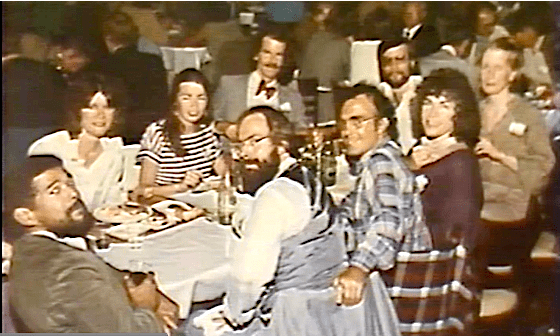 When the UDC decided to have its first national conference in 1982, it was only natural to hold it at Penn, where George Gerbner, once a professor at the University of Illinois Urbana-Champaign, was dean of the Annenberg School, and a strong supporter of progressive media reform. Gerbner was the opening speaker, welcoming the newly-formed group to campus. Fresh Annenberg alum James Miller (Ph.D. '81) was a moderator of a panel on popular culture and ideology. Decades later, recent grad Muira McCammon (Ph.D. '23) is moderating a session on contemporary activism at this week's conference.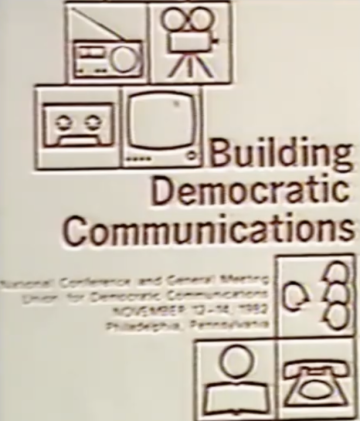 Pickard is thrilled that the Media, Inequality and Change Center (MIC), which he co-directs with Presidential Associate Professor Sarah J. Jackson and Rutgers University Professor Todd Wolfson, is hosting the 2023 UDC conference, themed "Left Undone."
Speakers and panelists include Annenberg doctoral students Matthew Conaty, Shane Ferrer-Sheehy, Antoine Haywood, and Brendan Mahoney as well as Annenberg alums Opeyemi Akanbi (Ph.D. '19), Christopher Ali (Ph.D. '13), David Elliot Berman (Ph.D. '22), Lauren Bridges (Ph.D. '23), Christopher Cimaglio (Ph.D. '18), Muira McCammon (Ph.D. '23), Lee McGuigan (Ph.D. '18), Aaron Shapiro (Ph.D., '18), and Emily West (Ph.D. '04). Former Annenberg Professor Marwan Kraidy will also be presenting. 
A special guest is filmmaker DeeDee Halleck, an early UDC member, who was running Paper Tiger Television, a grassroots video collective dedicated to community-made media, video activism, and media reform in 1981 when the UDC was formed. 
In one of the first Paper Tiger Television shows, renowned Communication scholar Herb Schiller, who worked with George Gerbner at Urbana-Champaign, read and discussed an issue of The New York Times. 
"Paper Tiger produced short films of critical scholars like Herb Schiller publicly critiquing mainstream news outlets, which really was its own form of media activism at the time," Pickard says. "The UDC has always been unique in its mission to merge scholarship with social movements outside the academy and to support critical research. From its very beginning, they've been committed to various kinds of activism, to working with media makers and media practitioners. They jettison the assumption that scholars should be dispassionate observers and instead say, 'We're not here to just describe the world. We're here to change the world.'"
The entire UDC 2023 Program is available on the UDC website.