Annenberg Faculty Receive $3.49 Million Grant to Study Vaping among LGBTQ+ Youth
Led by Professor Andy Tan, the research team aims to create anti-vaping messages tailored to LGBTQ+ teens.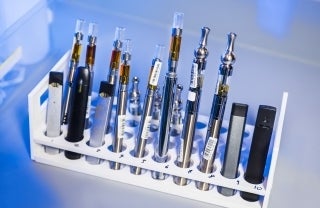 In the United States, LGBTQ+ youth — including lesbian, gay, bisexual, transgender, and queer adolescents — are 10-30% more likely to vape than their non-LGBTQ+ peers. Because vaping increases the risk of beginning to smoke cigarettes or use other tobacco products by four-fold, LGBTQ+ youth are at a greater risk for tobacco use and tobacco-related health concerns.
To combat this health crisis, a group of Annenberg School faculty members have received a five-year, $3.49 million grant from the National Institute on Drug Abuse to design and evaluate the effectiveness of a tailored social media intervention to prevent vaping initiation among LGBTQ+ youth. The team includes principal investigator Professor Andy Tan, Professor Robert C. Hornik, Professor David Lydon-Staley, and Professor Andrew A. Strasser.
"This study is important because there is currently no evidence-based approach to reduce vaping among LGBTQ+ youth," says Tan. "We also know that LGBTQ+ youth experience very different stresses and also have unique resiliencies against avoiding tobacco use compared with non-LGBTQ+ youth. Therefore, mainstream anti-vaping messaging for youth may not be relatable for LGBTQ+ youth. By co-creating an anti-vaping social media campaign with significant input from LGBTQ+ youth, we will ensure the campaign addresses their specific risks and resiliencies to help them avoid starting to vape." 
The study, entitled Project SMART (Social Media Anti-Vaping Messages to Reduce ENDS Use among Sexual and Gender Minority Teens), aims to reduce tobacco use and tobacco-related health disparities among LGBTQ+ youth populations. Based on prior health communication studies, the researchers believe that culturally tailored anti-vaping social media messages will be more effective than non-tailored messages to prevent vaping initiation among LGBTQ+ youth.
The specific goals of the study are to explore and identify what makes LGBTQ+ youth more likely to vape, develop anti-vaping messages that are culturally tailored to LGBTQ+ youth, and evaluate the effectiveness of the anti-vaping messages among LGBTQ+ youth.
In addition to the Annenberg faculty members, the research team includes multidisciplinary collaborators from across the country, as well as an advisory committee made up of community organization leaders.