Global Communication Scholar Aswin Punathambekar to Join Annenberg
In addition to his own research on media globalization, Punathambekar will direct the Center for Advanced Research in Global Communication.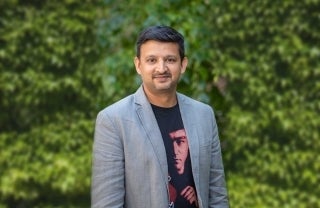 When Aswin Punathambekar moved from India to the U.S. in 1999 to pursue a master's degree  in media studies, anyone who wanted to access film and television from the subcontinent often turned to an unlikely place: the grocery store, where renting a VHS of "Dilwale Dulhania Le Jayenge" might provide a connection to home.
Within a few years, however, South Asian media could be found on satellite and cable TV bundles, in video stores and urban multiplex cinemas, and being shared via peer-to-peer online networks. As a student in the Comparative Media Studies program at MIT, Punathambekar began to reflect on these momentous technological and cultural shifts – which themselves seem charmingly outdated less than 20 years later. 
Looking at how Indian media diffuses into the diaspora opened up bigger questions: How does globalizing media shape audiences and their identities? How are the media industries themselves being reshaped to address global audiences? And what role do communication technologies play in transforming our sense of place and time in an interconnected world?
Thinking through the answers to these and other questions has formed the basis of Punathambekar's research and teaching, which now have a new home in Philadelphia.
He has just been appointed Annenberg's newest Professor of Communication as well as director of its Center for Advanced Research in Global Communication (CARGC), effective June 1, 2022. 
"Even as I was completing my master's thesis on media and diasporic audiences," says Punathambekar, "I recognized the importance of understanding another side of these transnational flows and frictions – the workings of the media industries and specifically, how industry professionals in cities like Bombay were actively thinking about overseas markets."
For his doctoral dissertation at the University of Wisconsin-Madison, Punathambekar conducted ethnographic fieldwork in India and the U.S. to understand the expansion of the Bombay film scene into the globally-influential juggernaut now known worldwide as "Bollywood." He hung out on film sets and at the offices of MTV India, sat through marketing meetings, and observed early "dot-com" companies muse over how to get "Indian American eyeballs." This research formed the basis for his first two books, the edited volume Global Bollywood (NYU Press, 2008) and From Bombay to Bollywood: The Making of a Global Media Industry (NYU Press, 2013). 
As social media and streaming platforms ushered in a new era of globalized media, Punathambekar and his students at the University of Michigan's Department of Communication Studies unraveled the new multi-polar media world in the contexts of Morocco, the Caribbean, Ghana, Kenya, and Uganda, as well as India and the Indian-American diaspora. Together they considered the impact of digitalization, but also the histories of media and communication technologies.
During this time, Punathambekar also joined a project funded by the Social Science Research Council that nudged him toward a more comparative focus by reading and drawing on scholarship that spans South Asia, East Asia, and the Middle East and North Africa (MENA) regions. Working with scholars with deep expertise across these world regions further shaped his work and informed two other books - Television at Large in South Asia (Routledge, 2014) and Global Digital Cultures: Perspectives from South Asia (University of Michigan Press, 2019).
Beyond specific projects, these experiences helped him recognize the importance of building structures that could foster collaborative research and teaching. In 2015, he founded the Global Media Studies Initiative (GMSI) at the University of Michigan, forming one of the few centers in the United States to foster rich collaboration among faculty, students, and postdoctoral fellows interested in global communication.
Over the last three years, which he spent as an associate professor at the University of Virginia's Department of Media Studies, Punathambekar has been working on a British Academy Global Professorship grant to study how digitalization has opened opportunities for migrant women in the U.K., notably those from South Asia and the Caribbean, to shape their own sense of storytelling and cultural identity. He is also at work writing a book with Shanti Kumar, Ph.D. (University of Texas at Austin) for Bloomsbury Press on the cultural history of Indian television.
In addition, Punathambekar serves as a co-editor of the Critical Cultural Communication series for NYU Press, where he works closely with scholars to develop book proposals, workshop manuscripts, and shepherd projects to publication. Since 2010, he has also co-edited the peer-reviewed journal Media, Culture and Society. In 2021, he joined the Board of Jurors for the Peabody Awards.
"Professor Punathambekar's work covers critical themes in global communication, theorizes the infrastructural and political economic impact of media industries, and provides the Annenberg School with a senior scholar who has demonstrated a sophisticated and nuanced understanding of how enhanced attentiveness to theorizing processes of globalization can help to redefine what communication studies looks like," says Dean John L. Jackson, Jr.
As CARGC director, Punathambekar says that many of the established research themes will continue, including a focus on popular culture and geopolitics, media infrastructures and mobilities induced by climate change and global conflicts. In addition, CARGC will be launching a series of critical conversations called "Turning Points in Global Media History" that explore key moments in media history that marked technological, political, and/or economic shifts. In the rush to study all things digital, Punathambekar says, the field may not have the most robust historical foundation for understanding where the digital comes from in a global context.
"I want to make sure that when we talk about the digital, we don't replicate the mistakes other fields have made where we first theorize from the West, and then we go and explore other parts of the world," he says. "The rest of the world has too often been a blank canvas for case studies, but never theorization."
One major addition to CARGC stems from Punathambekar's desire to create a community of global communication scholars at different stages of their careers. Drawing on similar successful efforts at GMSI, CARGC will be hosting doctoral institutes that bring in Ph.D. students from a variety of global institutions as well as first book workshops that help recent graduates shape their dissertations into published volumes.
Punathambekar also acknowledges the extraordinary set of global challenges in which media and communication play a central role, including climate change, political, and cultural polarization, border regimes and the politics of migration, cultural institutions, and social justice.
"As a first step, the CARGC community will be going on a half-day retreat this August to identify exactly what we wish to focus on, design collaborative projects that address some of these issues, and begin forging connections with academic, cultural, and activist groups and institutions in the greater Philadelphia region and across the world," he says. "We cannot wait to get started!"