Black Media-Makers and the Fierce Urgency of Now
Professor Sarah J. Jackson organized a day-long symposium focused on the unique challenges experienced by Black storytellers.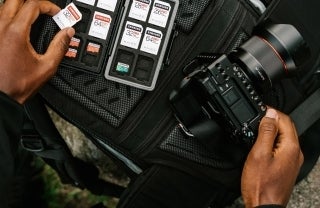 On August 28, 1963, Rev. Dr. Martin Luther King, Jr. delivered his now iconic "I Have a Dream" speech during the March on Washington. In addition to envisioning a more just and equal future, he stressed that civil rights for Black Americans could not wait, referencing the "fierce urgency of now."
Nearly 60 years later, the Black Lives Matter movement and the coronavirus pandemic have brought worldwide attention to the fact that Black Americans are still fighting for many of the things Dr. King considered urgent matters of his time. On the front lines of this struggle are Black media-makers — journalists, podcasters, filmmakers, writers, visual artists, and others — who tell stories of Black life, joy, and accomplishments, as well as shed light on the ways racism and oppression are embedded in every facet of American life. These storytellers communicate with compassion, nuance, and depth despite facing obstacles like censorship and gatekeeping.
Professor Sarah J. Jackson, who received a Carnegie Fellowship to research Black media-makers, organized a day-long symposium focused on the unique challenges experienced by Black storytellers and the importance of the current moment. Entitled "Black Media-Makers and the Fierce Urgency of Now," the event was hosted virtually on December 4 by the Media, Inequality & Change Center, of which Jackson is co-director, and the Center for Media at Risk.
The day featured four panels, each composed of three notable media-makers and moderated by Jackson. Panelists discussed how journalists should cover race, how to increase diversity in mediamaking, "objective" versus "activist" reporting, the possibilities of independent media organizations, and more. The panelists also shared personal stories of their experiences as Black storytellers in predominately white industries.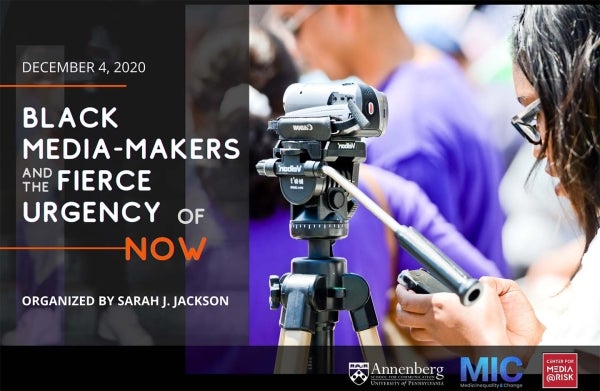 The first panel — featuring Gene Demby of Code Switch, Errin Haines of The 19th, and Maori Holmes of BlackStar Film Festival — focused on the importance of covering stories about Black folks that aren't primarily about racism, the ways that white gatekeepers inhibit the work of Black media-makers, and how Black storytellers can protect themselves from burnout.
During the second panel, Stacy-Marie Ishmael of the Texas Tribune, Chenjerai Kumanyika of Uncivil, and Wesley Lowery of CBS News highlighted the need to bring historical and contemporary context to journalism, why media outlets should assign stories about race to journalists with the expertise to cover them well, and how terms like objectivity and activism are used as weapons against Black media-makers.
Focused on political reporting, the third panel included Jelani Cobb of the New Yorker, Beatrice Peterson of ABC News, and Ayesha Rascoe of NPR. Their conversation considered the specific challenges of covering politics and policy during the Trump Administration, the ways Black reporters have been personally attacked for simply doing their jobs, and what the most important policy issues will be in 2021.
The final panel of the day — composed of Nuala Cabral of Independence Public Media Foundation, Tauhid Chappell of Free Press, and filmmaker Aishah Shahidah Simmons — discussed the possibilities of independent media and divestment from corporate newsrooms, the importance of giving Black storytellers a chance to do radical work, and the ability of activist media to bring attention to issues traditionally excluded from mainstream coverage.
While the symposium addressed many important topics, the concept of power was a recurring theme throughout the day. Who has power over media-making industries? What stories are those in power allowing to be told? How can we diversify the powers-that-be and/or create new structures of power in order to allow for different and better stories to be told?
Despite the many challenges Black media-makers face, they press on toward the goal for better and truer journalism, increased representation in media-making, and, ultimately, a more just world.
"Black Media-Makers and the Fierce Urgency of Now" was recorded and can be viewed here.