Annenberg Researchers Shift Focus to Coronavirus
Topics include media consumption and misinformation, social media whistle blowers, partisanship, impact on workers, and more.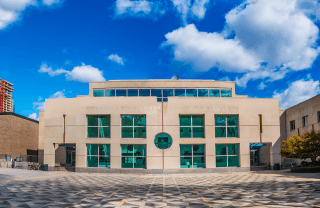 Communication is a diverse discipline, but one that consistently deals with some of the most current and relevant topics we face. Annenberg School for Communication researchers study everything from the ongoing crisis in journalism, to how gig workers use apps to make a living, to efforts to get smokers to quit. But no matter their area of specialty, many Annenberg faculty and students have responded to recent events by pivoting their work to address what may be the world's most urgent problem: coronavirus, or COVID-19.
In just a matter of weeks, some pieces have already made their way to the public eye, including a piece in Harvard Kennedy School's Misinformation Review by Professor Kathleen Hall Jamieson and Annenberg Public Policy Center Distinguished Research Fellow Dolores Albarracín. In the paper, they explore the relationship between media consumption and misinformation about the coronavirus, finding that mainstream media use correlated with accurate beliefs while conservative media use correlated with conspiracy theories. The article also included recommendations for improving the public's understanding of the crisis.
Back in early February, as the virus was making headlines in Wuhan, China, Professor Guobin Yang wrote about how residents of Wuhan were using social media to sound the alarm. Now, he is extending those thoughts into a book about social media and civil society during the ensuing lockdown in Wuhan. The book aims to analyze the nature of state responses to the epidemic, to document how residents in Wuhan braved everyday life and hardships, and to consider how new forms of solidarity emerged through social media storytelling and experiences of the lockdown opened up debates about speech freedom and government accountability.
Two students released preprint studies showing that partisanship is impacting Americans' response to COVID-19:
In collaboration with researchers from Penn Medicine, the Wharton School, and Penn's Political Science Department, doctoral candidate Soojong Kim found that political partisanship influences behavioral responses to governors' recommendations for COVID-19 prevention in the United States. Using mobile phone locations as a proxy for physical movement, they find that across 49 states, Democratic-leaning counties were more likely to comply with their governor's recommendations to stay at home, and even more so if their governor was Republican.
In doctoral candidate Sean Fischer's study, he also found that political polarization is impacting the coronavirus crisis. Despite previous research that shows local news coverage increases prosocial behaviors, Fischer's study finds that the coronavirus crisis is so polarized at the national level that local news is mostly unable to influence behaviors like social distancing or wearing a mask.
For many other faculty at Annenberg, work on COVID-connected topics has begun and is ongoing:
In collaboration with researchers at Microsoft Research, Stanford University, the University of Pennsylvania, and elsewhere, Professor Duncan J. Watts is involved in three lines of inquiry: examining evolving narratives in coverage by different national and local news programs, measuring how predictions differ from explanations in news coverage, and quantifying social distancing behavior across cities and modeling its effects on disease propagation.
Professor Emily Falk's Communication Neuroscience Lab is focusing on how individuals are spreading information about COVID-19. The lab is putting its expertise in neuroscience and message effects toward understanding how to ensure that accurate public health information gets shared, rather than myths that can be downright harmful, and what kind of messages will be most effective at getting people to do the right things, like social distancing and wearing masks. The team's coronavirus research is being spearheaded by postdoctoral fellow Danielle Cosme and includes contributions by postdoctoral fellow Bruce Doré; doctoral candidates Prateekshit Pandey and Rui Pei; doctoral students Mary Andrews, Darin Johnson, and Mia Jovanova; lab coordinators José Carreras-Tartak and Ally Paul; and alum Christin Scholz (Ph.D. '18).
In collaboration with researchers at Data & Society, Professor Julia Ticona is investigating how life has changed for domestic workers who find jobs through apps like TaskRabbit and Care.com; most of them are now out of work and very confused about their eligibility for unemployment insurance and other relief programs. She is also considering the ways different kinds of workers are using occupational Facebook groups for support in shifting working conditions because of the pandemic, from office workers and business professionals to grocery store employees and Instacart shoppers. Doctoral students David S. Cordero and Brendan Mahoney and Communication major Gene Pak are contributing to this project.
Graduate students and research centers are also shifting their work to consider the coronavirus:
Doctoral student Antoine Haywood is looking at how community access media practitioners have responded to local news and information needs that have become prevalent during the COVID-19 crisis.   
Doctoral candidate Hanna Morris is researching how coverage of the coronavirus compares with — and is impacting — coverage of the climate crisis.
Doctoral candidate Zane Griffin Talley Cooper is exploring how supply chains of cryptocurrency mining hardware have been impacted during the pandemic, and how this disruption is affecting blockchain, AI, and high performance computing infrastructures.
In collaboration with Drexel University, the Media, Inequality, and Change Center is conducting a survey to better understand how COVID-19 is affecting employment and mental and physical health for gig workers. The researchers hope to collect enough data to inform better policy at the city and state level about sick leave and PPE, essential worker status, and more.
As these projects yield results, we look forward to sharing them with you!