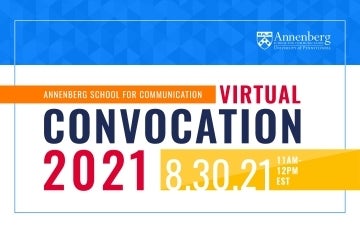 2021 Annenberg School Convocation
August 30, 2021
11:00am-12:00pm
Let's kick off the academic year 2021-22!
Please join us on Monday, August 30 at 11am for the Annenberg School's virtual convocation ceremony. 
The one hour and 15 minute event will be opened by Dean John L. Jackson, Jr. and will also include personal speeches from:
Sandra González-Bailón, Associate Professor of Communication
Lauren Bridges, Doctoral Candidate
Andres Spillari, IT Help Desk
Nikhil Sinha (Ph.D. '91), CEO of GSVlabs and Partner, Global Silicon Valley
Tommy Christaldi, Undergraduate Communication Major
At the time of the event, we will release the video on a private YouTube link, which will be emailed to the Annenberg community. You are welcome to watch at your own pace. 
Please note that there will NOT be a gathering to watch the video in room 500.
Disclaimer: This event may be photographed and/or video recorded for archival, educational, and related promotional purposes. We also may share these video recordings through Annenberg's website or related platforms. Certain events may also be livestreamed. By attending or participating in this event, you are giving your consent to be photographed and/or video recorded and you are waiving any and all claims regarding the use of your image by the Annenberg School for Communication. The Annenberg School for Communication, at its discretion, may provide a copy of the photos/footage upon written request.