Annenberg Community Mourns the Passing of Staff Member Marley Goldschmidt
Annenberg's Associate Director of Finance, Marley was admired by all who knew her and will be greatly missed.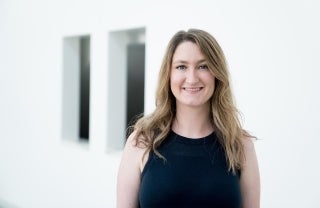 The Annenberg School for Communication is heartbroken to announce that staff member Marley Goldschmidt passed away on November 14.
Marley, 30, had been the Associate Director of Finance since 2019 and was known by faculty, students, and staff alike for her depth, charisma, trustworthiness, fun personality, and ability to handle complex problems with skill and poise. She was an invaluable member of the school's business team.
Marley was previously a staff member at the Perelman School of Medicine. She also received her Master in Law degree from Penn's Law School. 
Read more about Goldschmidt's life in the obituary shared by her family. 
"We are truly devastated as a community," says Annenberg School Dean John L. Jackson, Jr. "Not only was Marley a confident person, but she inspired confidence in everyone she worked with. No matter how big the problem, everyone knew that Marley would get to the bottom of it with a smile on her face."
"Marley was not only an incredibly intelligent and skilled employee, she was a dear friend to so many of us," says Patty Lindner, Executive Director of Finance & Facilities Operations, "and that is what we will miss most."
Her viewing will take place on Saturday, November 20 from 9:00 - 10:30am at Stretch Funeral Home, 236 East Eagle Road in Havertown, Pa. Her Mass of Christian Burial will follow at 11am in St. Denis Church, 2401 St. Denis Lane in Havertown.
A memorial for Marley will be held on December 13, 2021 at 10:00am in room 109 of the Annenberg School for Communication, 3620 Walnut Street, Philadelphia.
The family has asked that in lieu of flowers, donations in Marley's name can be made to the Kyle Ambrogi Foundation, which promotes education and awareness of depression and suicide prevention. 
As many in our community greive, we want to remind everyone that they can reach the Employee Assistance Program 24 hours a day, seven days a week, by calling 1-866-799-2329 or by scheduling an online appointment using the link in Penn Cobalt.
If you're thinking about suicide, are worried about a friend or loved one, or would like emotional support, the Lifeline network is available 24/7 across the United States by calling 1-800-273-8255.