Desmond Patton and the Science of Being Human
Patton discusses his research in social media and violence, finding an interdisciplinary career in social work, communication, data science, and psychiatry, and why his open-mindedness never stops.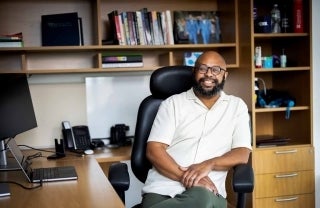 Desmond Upton Patton is one of the most implausible introverts you'll ever meet. He loves people—and not just in the narrow sense, but writ large. He asks questions; he's curious; he cares. He talks about being Black, being gay, and how understanding his identities helps him understand other people. This is a man who loves humanity. 
As one of Penn's youngest Penn Integrates Knowledge (PIK) University professors, Patton studies grief and loss, joy, and well-being. Calling himself a social worker first and foremost, he integrates communications and data science to study the human experience. With appointments in the School of Social Policy & Practice (SP2), the Annenberg School for Communication, and a secondary appointment in psychiatry at the Perelman School of Medicine, Patton crosses disciplines and boundaries. 
He was the first scholar to look at social media and violence using artificial intelligence. He started the SAFELab, using machine learning for violence intervention, to scale up this work. He has a TEDx Talk. He's been interviewed by The New York Times. He was recently named in the first cohort of "100 emerging changemakers" in the Obama Foundation's Leaders USA program. He has a happy marriage, a cabin in upstate New York, and enviable manicures. (At the time of this reporting, glossy black with accents of silver glitter, for the Beyoncé concert.)
Patton grew up in Gastonia, North Carolina, near Charlotte. It's a red town, he says, very Southern, "football and barbeque and church, and all those things."
Patton graduated from the University of North Carolina, Greensboro, with honors, holding a degree in anthropology and political science. The decision to go to the University of Michigan for a masters in social work degree, and later to the Crown Family School of Social Work, Policy and Practice at the University of Chicago for a Ph.D. in social service administration, "was a twist," he says. 
Originally, Patton was pre-law. Then he took a course in cultural anthropology. He saw himself in the work, but was unsure about the job prospects for anthropologists. In the meantime, he had already fallen "in love with the study of human beings." 
Patton says time spent as a student researcher, working for a cultural anthropologist studying public health, informed his research methods and his worldview. "What I began to understand is that the human condition, the human experience, is diverse and it's extremely complex, complicated and varied. So, for me, that meant that there are a multiplicity of approaches and understandings that need to be at play," he says.
As an assistant professor at the University of Michigan, Patton searched for understanding the broader human experience through the case of Gakirah Barnes, looking at it through the context of the rampant gun violence in Chicago. He says news articles painted a picture of Barnes, a teenage gang member gunned down in 2014, as an assassin, "I started off with his very negative view of her." Yet he says, "She forced me to reckon with her humanity in her Twitter posts."
Going through her old tweets, Patton found a juxtaposition between a soft, young girl and one hardened by life on the digital and physical streets, he says. The bridge between the two was grief and loss, pain turned to anger. 
"You saw how she related to her girlfriend at the time, saw how she related to friends," Patton says. "It was soft. It was innocent, it was pure, beautiful. We also saw when people pissed her off that it was not any of those things." That, he says, is the human experience. All of us are everything.
The resulting paper, "Accommodating Grief on Twitter," found that expressions of loss on social media prefigured street violence. Violence is complex, Patton says. But as a social worker, his mind works towards finding solutions. The gap between grief and violence is an opportunity for intervention.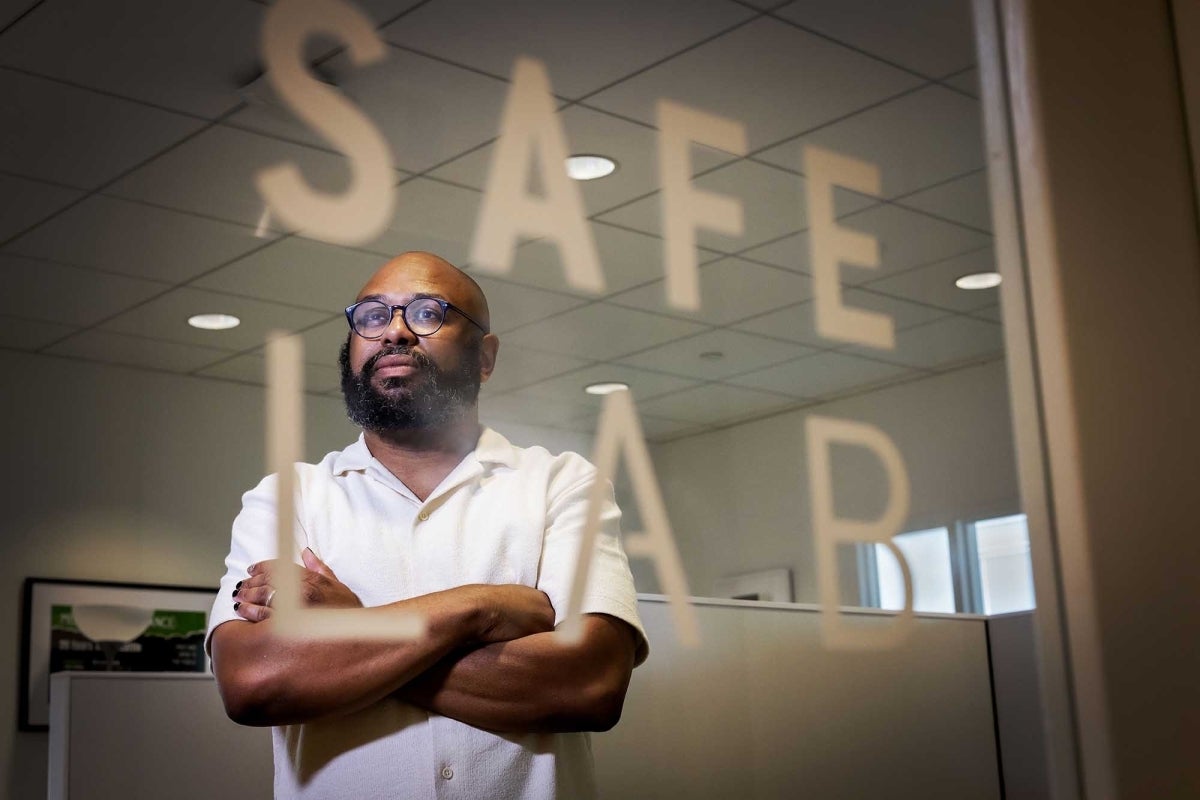 Patton founded the SAFELab, an interdisciplinary group that studies the well-being of young people, including loss, violence, joy, and well-being. He was an early adopter of AI, collaborating with computer scientists at Columbia University using machine learning systems to understand patterns in the data.
"Deploying artificial intelligence systems within a broader societal context really helps me to think about what's missing," Patton says. "What are the blind spots; who's not at the table? Bringing in kind of a multidisciplinary perspective to understanding how we might use these tools in society."
In using artificial intelligence as a tool to mitigate violence, Patton found that AI misinterpreted expressions of grief as aggression, simply because AI tools are typically trained in privileged white English or majority white English, Patton says. As a tool, AI had a weak spot. It was not able to parse nuance in African American English. 
"I would say one of my largest contributions is to really disrupt these binary classifications that have become critical for natural language processing," Patton says. "And that's me doubling down on my anthropological mind view."
Patton's work reflects an understanding that he began forming as an anthropology student: that the human experience is varied and diverse. That we are all embedded in systems both small and large (the family, the community, the city, the state) and all those frameworks that inform and influence our expression and decision-making. 
"This process, this learning, this growth, mindset, it's like an onion that I'm constantly peeling back," Patton says. "It's revealing things about myself, it's revealing the ways in which I want to connect with people. At the end of the day, it's made me a more open-minded person, but I also want to say that that open-mindedness never stops, that growth in terms of becoming open never stops and cannot stop. That has become a critical value that I hold, that that this learning is never over, that I'm never going to have it all, and that I'm always going to be learning something new and learning something new from other people. That has to become a part of how I do my work, and that affects the kind of research questions that I ask, how I analyze that data, what kind of teams I build, whom I collaborate with, how I envision expertise and, who has expertise, and so it affects everything in that way."
Patton has brought the SAFELab to Penn, along with four researchers. In addition to his academic work, he's taken on a new appointment as the SP2's inaugural chief strategy officer, working to align the school's values with a larger vision.
"He has been a generous colleague, since he got to SP2," says SP2 Dean Sara Bachman. "[Patton's] work is innovative, it's impactful, and it's ideally suited for my understanding of what the PIK professorships are supposed to do, which is to bring to our campus shining scholars who are doing work at the intersection of multiple disciplines."
Bachman recruited Patton as a PIK professor after being in touch over email for several years. The position, says Patton, "felt a little unattainable." But he says, "It also felt like the exact right job for me." 
He says, "I am someone who is spiritual. And I trust my gut."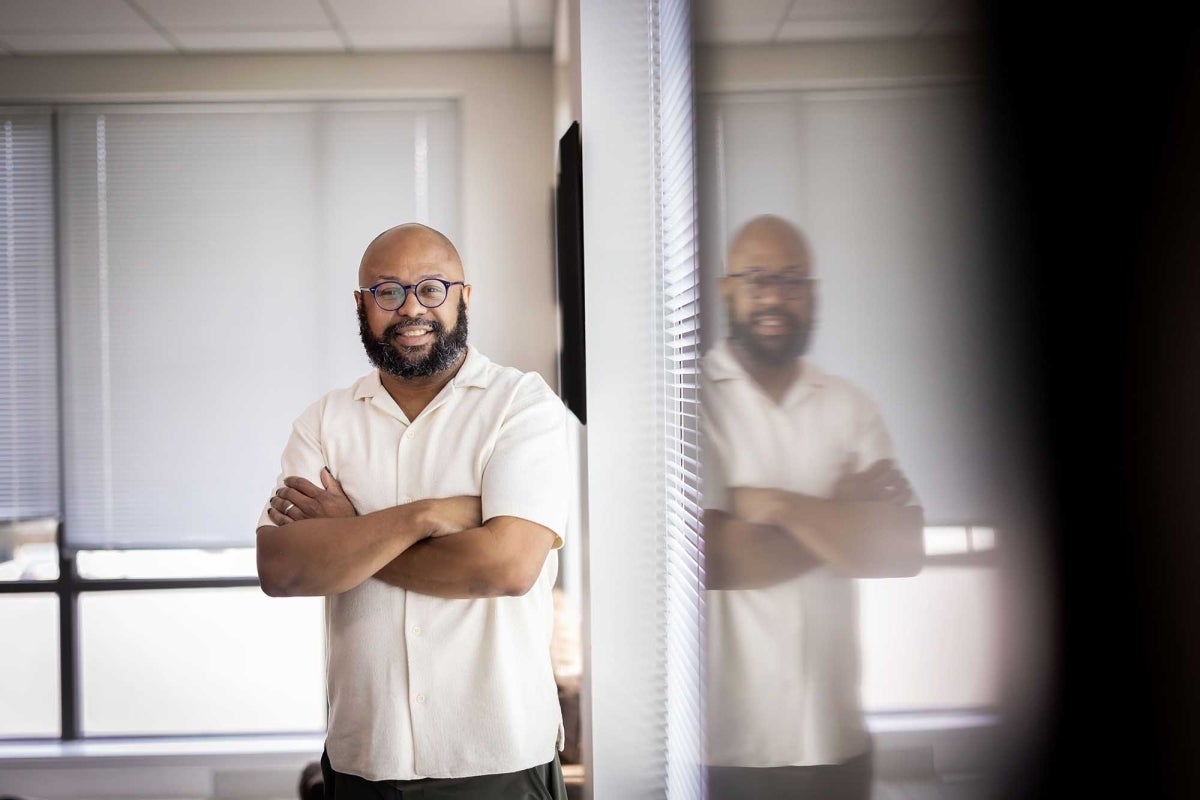 Patton identifies as a Christian, more as a cultural signifier than spiritual practice, he says. As a Black Southerner, there's a shared vocabulary, shared traditions, with those who grew up in the church. 
These days, "I would say that I'm a manifester," says Patton. By "scripting," putting words on paper, and by verbalizing, "I am a powerful manifester," he says. "I think I manifested this entire life. I believe in the universe and I believe in listening to my body, listening to myself and where the universe is trying to guide me."
While this practice is powerful, it's not "this magical cure, this pill, like you say it and then you get it," Patton says. Really, manifesting is about knowing yourself, trusting yourself—and then being open to possibility, he says.
Being in academia, Patton's had to check a lot of boxes. "It's all about what you do and who thinks you're smart," he says. "And that is that is anxiety-provoking and scary." Especially as a gay Black man, he says. "I've had to believe that there is something else that is in control that I can relinquish [my control] to, that has my best interests at heart, that can guide me and always help calibrate where I'm supposed to be."
The riskiest, wildest, most intuition-filled thing he's ever done, the thing that seemed like career suicide, possibly crazy, the thing that filled him "with tremendous doubt," is his research, Patton says. "There was no one in social work doing this work, so there was no mentor, there was no field." 
Patton recalls other people telling him "'You're not going to get tenure doing this work., No one's doing this work. I don't understand what you're doing. AI? No one's using AI to do this work. Social media to study violence? There's no violence on social media. What are you talking about?'" 
Patton says, "Everything from start to finish was extremely risky." He began to internalize other people's doubts and had to push himself to continue the work, he says. "It is really kind of like, growing psychologically and emotionally to trust yourself, to trust your life, to be open to being vulnerable, to believing in things that are outside of yourself, and relinquishing control."
Now, Patton is writing a book on Gakirah Barnes. He had published several papers, and researched her life, but he hadn't yet spoken to her family members. To write a book, Patton was going to have to call Barnes' mother. He says he was terrified. "I was afraid that her mom hated me and would hate this work." 
Calling on his vulnerability, he had to get over his discomfort and doubt, Patton says, and had the conversation over several Zoom sessions during the pandemic. "It was beautiful, and she did not hate me by any means. She was excited about the work and thought the work was important," he says. "It gave me that extra push that I needed."
This fall, Patton is teaching a graduate-level course called Journey to Joy: Designing a Happier Life for Social Work, Social Policy, and Non-Profit Leadership. It's a new course for him. 
"We're going to be learning about how people have studied joy, how people talk about joy, how people communicate around joy, and the goal is for the students to design a product or a project that brings joy to individual or group or community," he says. 
Again, bridging the complexities of the human experience, "the point," says Patton, "is to be thinking about joy as an intervention for how we talk about and solve some of our most pressing social problems." 
Desmond Upton Patton is the Brian and Randi Schwartz University professor and the 31st Penn Integrates Knowledge University professor at the University of Pennsylvania. He has joint appointments in the School of Social Policy & Practice and the Annenberg School for Communication and a secondary appointment in the Department of Psychiatry at the Perelman School of Medicine.