Desmond Upton Patton Announced as New Obama Foundation United States Leader
Patton is among the first cohort of 100 emerging changemakers selected to participate in the Obama Foundation's Leaders USA program.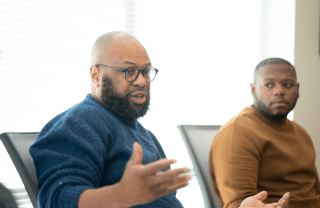 Today, the Obama Foundation announced that Brian and Randi Schwartz University Professor Desmond Upton Patton is among the first cohort of 100 emerging changemakers selected to participate in the Obama Foundation's Leaders USA program.
The Obama Leaders program is a six-month virtual program that supports and connects emerging leaders in the United States, Africa, Asia-Pacific, and Europe through a values-based leadership framework inspired by the ideals and legacy of President and Mrs. Obama.
Chosen from a highly competitive pool of applications, Patton was selected to join the program for his work as a pioneer in the interdisciplinary fusion of social work, communications, and data science and is ready to build his skills and expand his impact across public, private, and nonprofit sectors.
The inaugural cohort of United States "Obama Leaders" is composed of values-driven changemakers from every corner of the country. Hailing from 37 states; Washington, D.C.; American Samoa; Guam; and five tribal nations, these Obama Leaders are united by their passion for building a stronger, more sustainable, and more inclusive world.
Patton holds joint appointments at Penn's School of Social Policy & Practice (SP2) and the Annenberg School for Communication as the Brian and Randi Schwartz University Professor. His appointments are a result of the University-wide Penn Integrates Knowledge program, which recruits exceptional faculty who exemplify the integration of knowledge across disciplines.
The inaugural chief strategy officer at SP2, Patton is an expert on language analysis and bias in AI and leads groundbreaking research into the relationship between social media and gun violence., grief and loss In addition, Patton is founding director of SAFELab, a research initiative affiliated with Annenberg and SP2, which examines how to support youth of color in navigating grief and violence in social media environments and researches innovative methods to promote joy and healing in digital contexts.
"We are excited to welcome these 100 changemakers from across the United States into the Obama Foundation family," said Valerie Jarrett, CEO of the Obama Foundation. "Our newest Obama Leaders are already making a difference in their communities and are ready to take their work to the next level. They embody the values of President and Mrs. Obama, and their impactful work will create positive change in communities across the country."
The Leaders USA program offers participants a unique and comprehensive experience, including a values-driven leadership curriculum, action labs focused on strengthening democratic institutions and culture in the U.S., community groups for fostering constructive dialogue in a polarized environment, and one-on-one support to help tackle some of the most pressing issues of our time. 
As part of the six-month program, Patton will convene virtually each week with the United States Obama Leaders cohort for interactive sessions designed to help them drive change by honing their leadership skills, building deep relationships with their peers, and engaging with thought leaders and members of the Obama Foundation community. Patton will also have an opportunity to engage with President Obama and participate in various virtual experiences and special events, including one-on-one conversations with experienced mentors in the Foundation's global network.  
To learn more about the program and the individuals who make up the inaugural cohort, visit the Obama Leaders website.