Desmond Upton Patton Elected to the National Academy of Medicine
Professor Patton is among 100 new Academy members elected this year, one of the highest honors in health and medicine.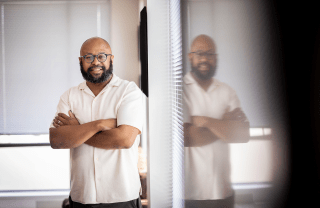 Brian and Randi Schwartz University Professor and SAFELab Director Desmond Upton Patton is one of the five experts from the University of Pennsylvania elected to the National Academy of Medicine (NAM), one of the nation's highest honors in the fields of health and medicine.
Patton, along with Kurt T. Barnhart, Christopher B. Forrest, Susan L. Furth, and Robert H. Vonderheide from the Perelman School of Medicine are among the 100 new members, elected by current NAM members. They join 83 other Penn members who are part of the prestigious group of health care thought leaders, clinicians, and researchers.
Election to the Academy recognizes individuals who have made major contributions to the advancement of the medical sciences, health care, and public health.
Patton is a pioneer in the interdisciplinary fusion of social work, communications, and data science. A Penn Integrates Knowledge University Professor, Patton holds joint appointments in the  Annenberg School for Communication and the School of Social Policy & Practice (SP2), with a secondary appointment in the Perelman School of Medicine. Patton is the founding director of SAFELab, a research initiative affiliated with Annenberg and SP2 that examines how to support youth of color in navigating grief and violence in social media environments and researches innovative methods to promote joy and healing in digital contexts. At SP2, he is also chief strategy officer and the director of the Penn Center for Inclusive Innovation and Technology.