González-Bailón Named 2019-20 Center for Advanced Study in the Behavioral Sciences Fellow
She will work on a book manuscript about how algorithms translate social expectations into code.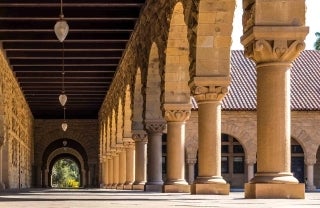 Associate Professor Sandra González-Bailón has been named a 2019-20 Fellow at the Center for Advanced Study in the Behavioral Sciences (CASBS) at Stanford University.
Since 1954, this year-long program has been bringing scholars from across the United States and around the globe to live and conduct research together at Stanford.
This year's group of 34 fellows, half of whom are female, represent a wide variety of fields within the social and behavioral sciences, including American studies, anthropology, communication, comparative literature, earth sciences, economics, education, global studies and languages, history, language and literature, law, medicine, philosophy, political science, psychology, science and technology studies, sociology, and statistics and probability.
During her fellowship year, González-Bailón will be working on a book manuscript about how algorithms translate social expectations into code.
For example, aggregators, social media, and multiple types of recommender systems offer personalized and heavily filtered entry points to news. How should digital platforms be mediating that access? Should social media allow self-selection as people interact in their personal networks?
"Digital technologies have become the backbone of social life, and their design is forcing us to be more explicit about which norms and expectations we encode in them," says González-Bailón. "The book will consider the different domains in which norms get embedded in algorithms, and discuss some of the technical trade-offs that arise when we try to optimize normative expectations.
In addition, González-Bailón also will be working on her National Science Foundation grant on digital news consumption, studying comparative evidence of how people consume news in 23 different countries.
CASBS is a collaborative environment based on the idea that cross-disciplinary interactions lead to beneficial transformations in thinking and research. It seeks fellows who will be influential with, and open to influence by, their colleagues in the diverse multidisciplinary cohort it assembles each year.
González-Bailón is the fourth Annenberg professor to receive the honor in recent years. Past CASBS fellows include Associate Professor Damon Centola (2014-15), Professor Barbie Zelizer (2011-12), and Emeritus Professor Elihu Katz (2005-06).