Professor Emeritus Elihu Katz to Receive Honorary Doctorate from Penn
Katz is a sociologist, media scholar, and founding father of the field of Communication.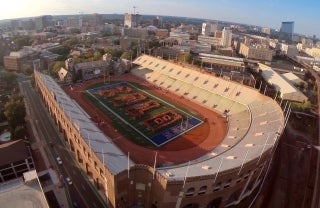 The University of Pennsylvania announced this morning that the eminent Communication scholar and Annenberg School for Communication Emeritus Professor Elihu Katz will be receiving an honorary doctor of sciences degree at the University's 2018 Commencement on May 14.
Katz, Distinguished Trustee Professor Emeritus of Communication at the Annenberg School, is an American Israeli sociologist and media scholar who is a founding father of the field of Communication, specifically in the areas of media effects, diffusion, uses and reception, and media events.
Katz rose to prominence when he coauthored Personal Influence: The Part Played by People in the Flow of Mass Communications about the juncture of mass media and interpersonal communication, a topic that would become a prime emphasis of his research. So influential was Personal Influence that it was republished on its 50th anniversary in 2006 with a new introduction by Katz.
His work includes groundbreaking studies on the secularization of leisure, and on bureaucracy and the public, and he collaborated on Media Events, a book about the importance of historic broadcasts.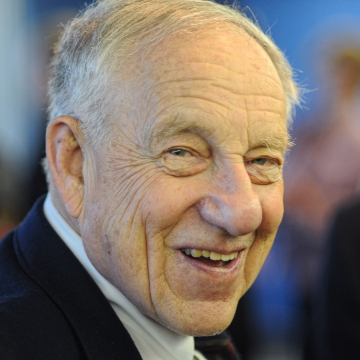 At Hebrew University in Jerusalem, Katz founded the Communications Institute, and as director of the Israel Institute of Applied Social Research he helped introduce television broadcasting to Israel. Katz, an American Academy of Arts and Sciences member, won the 1989 Israel Prize and the UNESCO-Canada McLuhan Prize. He served on the Penn faculty from 1992 until 2014.
During this illustrious career, Katz has published over 20 books and 175 articles and book chapters. Collectively this body of work has shaped the theories, methods, and findings at the heart of Communication and Media Studies. 
Outside of the academy, Katz was asked by the Government of Israel to head a task force charged with the introduction of television broadcasting in the late 1960s, a position he took and successfully completed, serving as the founding Director of Israeli Television from 1968 to 1969. He has also served as a consultant to both the Columbia Broadcasting System and the British Broadcasting system; as a member of the Israeli Council on Culture and Arts and the Israeli Film Council; and a Chairman of the U.S. Educational Foundation in Israel.
"Elihu Katz is a scholar of rare accomplishments and influence," says Walter H. Annenberg Dean Michael X. Delli Carpini. "I can think of no one more deserving of an honorary degree from the University of Pennsylvania. And I can think of no better way of showing him our gratitude for his many contributions to Annenberg, Penn, and the Communication field."
Katz's papers (1948-2014) are held by the Annenberg School for Communication Library Archive.
Katz is one of eight honorary doctorate recipients at this year's Commencement ceremony. The others include graduation speaker and NBC chief foreign affairs correspondent Andrea Mitchell; marine biologist and explorer Sylvia Earle; University of Maryland, Baltimore County president Freeman Hrabowski; Walter and Leonore Annenberg Chair for the Philadelphia Orchestra Yannick Nézet-Séguin; Journalist Peggy Noonan; Harvard historian Laurel Thatcher Ulrich; and Chobani CEO Hamdi Ulukaya.