Sharing the Stories of Community Media Makers in Philadelphia
Doctoral candidate Antoine Haywood is documenting the work and lives of Black, Indigenous, and People of Color (BIPOC) media makers in Philadelphia.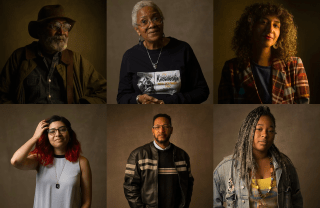 Antoine Haywood fell in love with public access media the day he walked into the studios of People TV, the public access television channel in Atlanta, Georgia.
"I came in and was just totally swept away," he says. "It was really about seeing other Black people in a space, in a community media center, making content and working collaboratively."
Haywood, now a doctoral candidate at the Annenberg School for Communication at the University of Pennsylvania, hasn't lost his enthusiasm for public access media over the two decades that have passed since he first entered the now-defunct People TV. 
As part of his dissertation research, he is recording the stories of BIPOC media makers at Philadelphia Community Access Media (PhillyCAM), where he directed community engagement programs for eight years. 
His project, "Telling Our Stories: A Multimodal Philadelphia Community Media Storytelling Project," informed by an advisory committee of PhillyCAM members, pairs portraits taken by Annenberg Digital Design Specialist Kyle Cassidy with oral histories recorded by Haywood and his research assistants, Karen Walker and Maya Winneg.
"Something that I feel that's not really focused on in research is the story of the storytellers," Haywood says. "This is a multimodal way of getting at the experiences, the motivations, the aspirations that live within the people who produce content through our public access TV and local radio resources at PhillyCAM."
An interactive exhibit featuring "Telling Our Stories" portraits and oral histories is on view at PhillyCAM, located at 699 Ranstead Street Suite 1 in Philadelphia until December 31, 2023. Visitors can experience the exhibit during PhillyCAM's open hours on Tuesdays, Thursdays, and Saturdays.