Marjorie Margolies is the founding President of Women's Campaign International (WCI), a group that provides advocacy training for women throughout the world. During the past several years, WCI has conducted several successful trainings in the countries of Tanzania, Venezuela, Bosnia-Herzegovina, Romania, Namibia, Malawi, Afghanistan, Sri Lanka, Colombia, and Ethiopia among others. WCI's work in these countries has yielded phenomenal successes, including doubling the number of women in parliaments and inspiring the creation of various women's caucuses on local levels.
A graduate of the University of Pennsylvania and a CBS News Foundation Fellow at Columbia University, Margolies began her career as a television journalist at WCAU-TV in Philadelphia. Margolies was a journalist with NBC and its owned and operated stations both in New York and Washington, DC. She was a contributing correspondent to the Today Show, Sunday Today, A Closer Look, CNBC, and Real Life with Jane Pauley. Margolies's reporting has won numerous awards including five Emmys.
In 1992, Margolies was the first woman ever elected to Congress from Pennsylvania in her own right. She was also the first Democrat since 1916 elected from Pennsylvania's 13th district. Margolies was appointed to the Committee on Energy and Commerce, with subcommittee assignments on Oversight and Investigations and Telecommunications and Finance. In addition, she was a member of the Committee on Small Business and the Committee on Government Operations.
In 1995, Margolies served as the Director of the United States delegation to the United Nations Fourth World Conference on Women in Beijing, China.
Margolies is currently at the Fels Institute of Government at the University of Pennsylvania. She has taught two courses there: "Women Leaders in Emerging Democracies" based on her work with WCI and "Dealing with the Media," a course which analyzes the ways in which politics and the media interact. In 2015, she was given the Outstanding Teacher Award by the students and faculty of Fels. Margolies was also a senior fellow at the Annenberg School for Communication at the University of Pennsylvania as part of its Institute for Public Service. At Annenberg she has co-taught two classes, one studying political conventions, another focusing on the first 100 days of new presidential administrations. In addition, as a Woodrow Wilson Fellow, Margolies lectures at universities throughout the country. Margolies was a presidential appointee to the Vietnam Education Fund, which focuses on scientific education and exchange between the United States and Vietnam.
Margolies became the first unmarried U.S. citizen to adopt a foreign child. Lee Heh arrived from Korea in 1970 and was joined four years later by Holly from Vietnam. Margolies chronicled their experiences in the 1976 best-seller, They Came to Stay (Coward, McCann & Geoghegan, 1976), the first of four books she has authored. Her most recent book is entitled A Woman's Place . . . The Freshmen Women Who Changed the Face of Congress (Crown, 1994).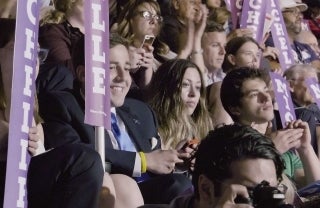 News
This marks the fifth presidential election cycle for which David Eisenhower has led students to the nominating conventions.