CARGC Distinguished Lecture: Tarek El-Ariss, Dartmouth College
September 30, 2021
5:30pm-7:30pm
Audience
Open to the Public
Professor El-Ariss will deliver the talk, "Theory in a Global Context."
Click here to register for the event on Zoom
About the Talk
At a time when attempts to rethink the meaning, scope, and politics of the global and the worldly (global media, world literature, etc.) abound, the function of theory becomes even more vital to consider. How do we think of the global as being constituted through sites of theoretical production rather than application? How do we challenge the understanding of theory as a master narrative that governs and fixes meaning? What is the role of language and translation in this movement between sites of production and interpretation? From literature to TV to art, practices of theory and the disciplinary methodologies with which they are associated have relied on models of exportation and application in the global south. Drawing on his intellectual trajectory that examines the development of Arabic culture from the 19th century to the digital age, El-Ariss rethinks in this talk the relation between the local and the global. He argues that theory, just like modernity, is a networked system with multiple sites of production emerging through models of simultaneity. This talk showcases new critical practices emerging at the intersection of area studies, and the humanities and the social sciences more broadly.
About the Speaker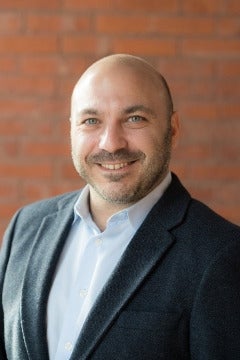 Tarek El-Ariss is the James Wright Professor at Dartmouth College and Guggenheim Fellow 2021-22. Trained in philosophy, comparative literature, and visual and cultural studies, he works across disciplines and languages to examine notions of the subject, community, and modernity. His research interests include Arabic and comparative literature; visual and digital culture; gender and sexuality studies; and psychoanalysis, deconstruction, and affect theory. He is the author of Trials of Arab Modernity: Literary Affects and the New Political (Fordham, 2013) and Leaks, Hacks, and Scandals: Arab Culture in the Digital Age (Princeton, 2019), and editor of The Arab Renaissance: A Bilingual Anthology of the Nahda (MLA, 2018).
Disclaimer: This event may be photographed and/or video recorded for archival, educational, and related promotional purposes. We also may share these video recordings through Annenberg's website or related platforms. Certain events may also be livestreamed. By attending or participating in this event, you are giving your consent to be photographed and/or video recorded and you are waiving any and all claims regarding the use of your image by the Annenberg School for Communication. The Annenberg School for Communication, at its discretion, may provide a copy of the photos/footage upon written request.