Alumna Q&A: Eileen Le Han (Ph.D. '14) On Her New Book, Micro-blogging Memories
Han's book looks at the past and present of the Chinese microblogging site Weibo.
Eileen Le Han (Ph.D. '14) is an Annenberg alumna and assistant professor at the Center for Integrative Studies at Michigan State University. She researches cultural practices on social media — particularly issues related to collective memory, nationalism, and social inequality — and the role of journalism in those practices.
Han recently published Micro-blogging Memories: Weibo and Collective Remembering in Contemporary China. We asked her about her research and new book:
Why did you choose Weibo as a platform to study recent societal changes in China?
First, Weibo emerged at a very critical moment in China's social transition — the post-Beijing Olympics era — during which a lot of suppressed social contentions under the high tide of nationalism were pushed to the surface. Second, what happens on Weibo reflects a larger picture than "right here, right now." As a continuation of the contentious internet culture in China, Weibo not only expresses the social tensions of its time, but also accommodates the efforts of piecing together historical events, reminding people of historical issues not yet properly solved and explaining present social issues through the lens of the past. Last but not least, Weibo has very unique features that granted it advantages as a recorder or witness of social changes in recent years. As a public platform, Weibo is open to everyone who has an account, making it an ideal place for Chinese people to participate in public life.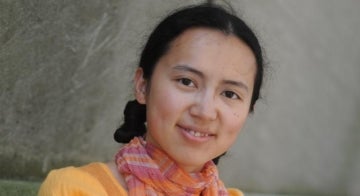 What is the core argument you make in Micro-blogging Memories?
I tried to capture the highs and lows of Weibo. I argue that Weibo is not only a platform for people to get instantaneous updates about ongoing public events, but more importantly, it serves as a crucial platform for remembering. The information updates on Weibo involved extensive discussions that intermingled "now" and "then," with a blending of local and global participation. Journalists and media professionals play a significant role in this, as they actively engaged in bringing past events to Weibo, calling the public to preserve the "firsthand witnesses" for history and to remember what was happening. All of these are reflections of the anxiety over forgetting in the digital age and the pending state power, and they serve in the contentious discourses of Chinese modernity.
How did Chinese society change over the four-year period (2011-2015) you studied?
I think the most obvious change is the tightening state control on media, particularly the internet. We have seen that freedom for individuals and media to speak out is shrinking, and at the same time, the official discourse is invading social media platforms. The "official media," traditional Party outlets (e.g. People's Daily), are gradually stepping forward into social media and adapting to its culture. They appeared in social media with a very different image to that of the traditional media and have effectively steered public opinion in many major public events. Additionally, I observed the rise of nationalism, especially after the opinion leaders (the outspoken users who usually posted critical views on current politics) were gradually retreating from Weibo, as they are either suspended or have migrated to other platforms. This wave of nationalism is more appealing to the younger generation, incorporating internet catchphrases and popular cultural icons. There have been multiple incidents in which young Weibo users employ offensive and violent language and icons to attack "unpatriotic" individuals. The official media also made full use of this popular sentiment to mobilize young people to post on social media in favor of "the motherland" and in defense of the legitimacy of the Party-state.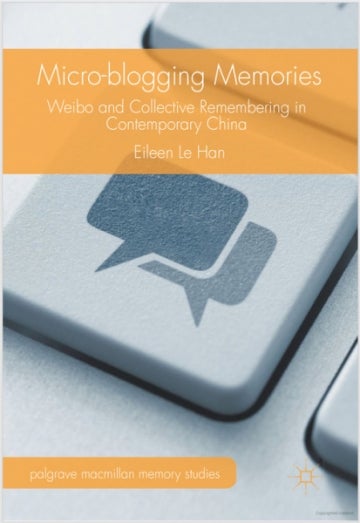 Do you have a favorite anecdote from the book?
In January 2013, I witnessed a protest on Weibo in support of an outspoken weekly newspaper usually criticized by the official media. As a politically sensitive topic, any posts that had even a tiny indication of the protest or even mentioned the newspaper were soon deleted or made invisible to the public. I did not participate in or comment on that protest, but my Weibo account was deleted. Resuming my account was difficult; there was no place that I could file my complaint, and there were no publicly available instructions on how to resume an account. I desperately needed access to my account for my research. Eventually, I got my account back through a contact I have, and everything was intact, but I still do not know if the deletion of my account had anything to do with the protest, or if it was only a mistake. I could not imagine what would happen if I were someone who had no personal contacts who worked for Weibo. Who can they go to for help? What about all the user information and the posts? Would one receive any compensation for the loss?
Did anything surprise you over the course of doing this research?
I was surprised to discover that Weibo is operated as a news medium. Through interviews with Weibo employees, I learned that Weibo's operations team maintains the content on the platform. They work closely with users, journalists, and other opinion leaders, and they are actively engaged in shaping public opinion. Some of the team operates as if Weibo were an online news website. Another thing that surprised me is that the rise of WeChat did not kill Weibo. Many loyal Weibo users were concerned by the popularity of WeChat, especially when they saw that many opinion leaders migrated there. However, Weibo survived in the dual-pressure of user migration and tightening state control by reaffirming its "publicness" and appealing to more diverse groups.
Outside of the Chinese context, are there implications for this research on the way that social media and journalism interact to produce accepted truths?
Unlike Weibo, there is no state-implemented censorship on Facebook or Twitter, but people still have to follow the community standards and the professional codes set by these companies. Sometimes these standards are in conflict with news value or historical significance of an event. For example, Facebook recently censored a photo posted by a Norwegian journalist for its violation of Facebook's community standard against child nudity. While the iconic "Napalm Girl" photo from the Vietnam War was later restored, it still raises questions about the authority and practices of collective memory. In the age of social media, who has the authority to determine the historical significance of an image or other material? The social media company, journalists, or the public? In other words, when something historically significant posted on social media is in conflict with the "community standard," does the company (such as Facebook) have the right to censor it?