Annenberg Welcomes Jennifer Rothman as New Secondary Faculty
Rothman, a Professor at Penn Carey Law School, specializes in intellectual property law.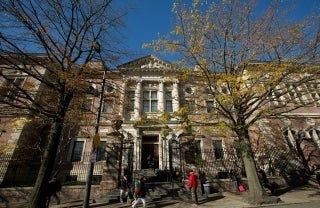 Beginning this year, Jennifer E. Rothman, J.D., will offer her renowned scholarship and leading expertise as a secondary faculty member at the Annenberg School. As secondary faculty, she will maintain her primary appointment while collaborating with Annenberg's standing faculty and contributing to the field of Communication.
Nicholas F. Gallicchio Professor of Law at Penn Law, Rothman's scholarship focuses on conflicts between intellectual property rights and other constitutionally-protected rights, the intersections of tort and property law, and the complexities of intellectual property law as they relate to the regulation of the production and content of expression. Prior to joining Penn Law, Rothman was William G. Coskran Chair at Loyola Law School at Loyola Marymount University.
Rothman's scholarship is regularly recognized by top law reviews and law journals. Her most recent book, The Right of Publicity: Privacy Reimagined for a Public World (Harvard University Press) stands as a leading text regarding the right of publicity. Similarly, she created an online resource, Rothman's Roadmap to the Right of Publicity, that provides an analysis of state right of publicity laws and offers commentary on recent legislation. Rothman has also worked as an entertainment and intellectual property litigator in Los Angeles.