Center for Media at Risk Receives Second Grant from Craig Newmark Philanthropies
Newmark has donated over $100 million to journalism initiatives.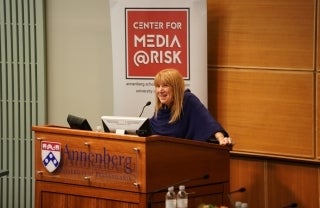 The Center for Media at Risk at the University of Pennsylvania's Annenberg School for Communication has received a grant from Craig Newmark Philanthropies to bolster its mission of supporting trustworthy media practice and offsetting threats to media scholars and practitioners across the current digital landscape.
The Center for Media at Risk is a hub for strategizing around the political intimidation of practitioners in journalism, documentary, entertainment, and digital spaces. It aims to enhance awareness of the growing global prevalence of political threat against the media and to share knowledge about the existing and emergent ways of resisting its penetration.
"A vigorous, trustworthy press that has the right to communicate freely is key to a healthy global society," said Craig Newmark, founder of craigslist and Craig Newmark Philanthropies. "It keeps people informed and helps give them a voice, and that's precisely why the Center for Media at Risk stands up for media folks who are at risk of being silenced."
Craig Newmark Philanthropies has emerged as a leading supporter of a free press. Having donated well over $100 million toward journalism initiatives to date, Newmark helps to strengthen trust in high-quality news by supporting institutions and initiatives that are tackling the wide range of issues that affect the industry.
"We are honored and grateful once again to be among the grantees funded by Craig Newmark," says Professor Barbie Zelizer, Director of the Center for Media at Risk. "His efforts to sustain and advance free and critical media practice have been far ahead of the curve, and, as political intimidation of media practitioners increases worldwide, we applaud the opportunity he has given to help offset its intensification."
Newmark, a self-described "old-school nerd," was inducted into the Internet Hall of Fame in 2012. He currently sits on a number of boards of directors and advisory committees, including for DonorsChoose.org, Girls Who Code, Poynter Foundation, and Wikimedia Foundation.
About the Center for Media at Risk
Political intimidation threatens media practitioners worldwide, and disinformation campaigns destabilize public trust. The Center for Media at Risk offers the chance to strategize in response to threatening political conditions. Knowing how media practitioners work under authoritarian regimes and circumstances of creeping authoritarianism can save the media. The Center aims to: enhance dialogue between practitioners and scholars about a free and critical media environment; promote awareness about the mechanics of political intimidation and its resistance; strategize interventions on behalf of the media; build a community for documentary, journalism, entertainment and digital practitioners under threat; and support associations and organizations offsetting intimidation to media practitioners worldwide.
About Craig Newmark Philanthropies
Craig Newmark Philanthropies was created by craigslist founder Craig Newmark to support and connect people and drive broad civic engagement. The organization works to advance people and grassroots organizations that are getting stuff done in areas that include trustworthy journalism, voter protection, gender diversity in technology, and veterans and military families. For more information, please visit craignewmarkphilanthropies.org.