Chair Named for Professor Emeritus Oscar Gandy
Former dean Michael X. Delli Carpini is now the Oscar H. Gandy Professor of Communication & Democracy.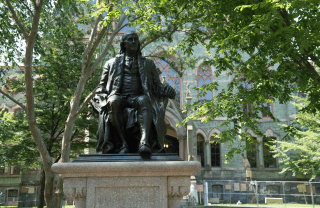 After serving as Walter H. Annenberg Dean of the Annenberg School for Communication from 2003 until 2018, Michael X. Delli Carpini rejoined the faculty as a full professor. In keeping with Annenberg tradition, he has named his endowed faculty position after someone he admires: Professor Emeritus Oscar H. Gandy, Jr. (MAC '70), who taught at the Annenberg School from 1987 until his retirement in 2006.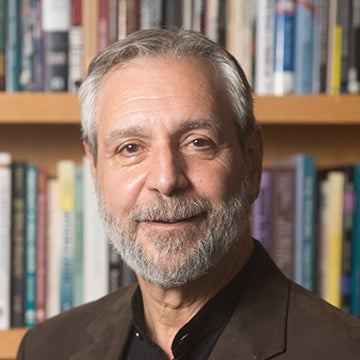 Delli Carpini, now the Oscar H. Gandy Professor of Communication & Democracy, became acquainted with Gandy during his early years as dean.
"I have always admired Oscar's scholarship, and the way he integrated theory and practice into his research and teaching," says Delli Carpini. "I also valued his insights about Annenberg, the discipline of Communication, and the mission of higher education during my time as dean. I am honored to hold a chair named after him."
Even after Gandy retired and moved to Arizona, Delli Carpini describes him as remaining interested in and supportive of the Annenberg community. The pair continued to correspond over the years about the latest happenings at the Annenberg School as well as their respective research pursuits.
Delli Carpini's research explores the role of the citizen in democratic politics, with particular emphasis on the impact of mass media and information and communication technologies on public opinion, public deliberation, political knowledge, and political participation. He is the author or editor of nine books and numerous articles, book chapters, and essays, and he was elected a Fellow of the International Communication Association in 2018.
Gandy's research focuses on political economy, communication and race, privacy and surveillance, strategic communication, and media effects. In addition to receiving his master's degree from Annenberg, he was a postdoctoral fellow here before becoming an assistant professor at Howard University in 1977. When Gandy joined the Annenberg School as an associate professor ten years later, he was the first African American member of the standing faculty. Despite moving to emeritus status nearly 14 years ago, he remains an active scholar, regularly presenting and publishing.
"I was genuinely touched when Michael asked me if I would allow him to use my name as the title for his much deserved faculty chair," Gandy says. "And I was even more pleased to learn that he would associate the chair with Communication and Democracy, something about which we both share some concerns. I am deeply honored."