A Class Trip in the Time of Coronavirus? That Can Go Virtual Too.
Lecturer Al Hunt recreated his annual class field trip to Washington, D.C. using video conferencing software.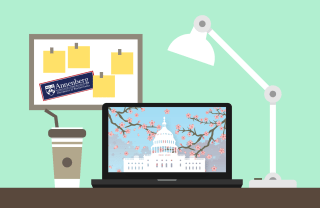 The speakers were lined up, space at the Biden Center arranged, and the Amtrak tickets purchased. It was two weeks before Al Hunt's Contemporary Politics, Policy, and Journalism class was scheduled to travel to Washington, D.C., to meet a distinguished group of working journalists and alumni. Then came the announcement that because of coronavirus, all Penn classes would go virtual, with all in-person events and travel canceled.
It was the right call for everyone's safety, but Hunt was disappointed to call off the trip. Over 20 years teaching at the Annenberg School for Communication, the former Executive Editor for Bloomberg News and DC Bureau Chief for the Wall Street Journal has seen what an unforgettable chance the trip is to interact with some of the biggest names in journalism.
That's when Phil McClelland, classroom technology manager at the Annenberg School, came up with a solution: They could create a virtual trip using the video conferencing software BlueJeans.
Over the course of the day on March 26, NBC News Chief Foreign Affairs Correspondent Andrea Mitchell (CW'67, HON'18), PBS NewsHour host Judy Woodruff (HON'05), Wall Street Journal Executive Washington Editor Gerald Seib, and Axios Political and White House Correspondent Margaret Talev met with the class's 31 students for 25 minutes each and answered their questions. Meanwhile, the students themselves were safely at home across the country.
The guests are on the front lines of the very issues the class studies, namely the nexus of press and politics. Class topics have included bias, leaks and anonymous sources, the changing landscape of social media and legacy media, and the economics of journalism.
This year, each of the presenters also spent at least some time addressing the challenges of reporting during the coronavirus outbreak, both in terms of challenges, but also in terms of opportunities like the increase in online readership and subscriptions.  
Isabella Hassett, a freshman from Boca Raton, Fla., was captivated by hearing the details of the five days Gerald Seib spent imprisoned in Iran, accused of being a spy.
"It's a story you don't get to hear every day," she says. "It was also a thrill to listen to two legends [Mitchell and Woodruff] who started in the business when women were expected to bring coffee to the men and work in the copy room, and now they are in anyone's media industry Hall of Fame."
The students each submitted questions in advance, and Hunt called on them to unmute themselves, pose their questions, and ask follow-ups.
"I am deeply appreciative that I had the opportunity to interact with legendary journalists in an intimate manner — all while sitting safely in the confines of my sanitary home in Los Angeles," says senior Justin Horn, who notes one silver lining: it felt less intimidating to interact with legendary journalists through cyberspace.
Another feature of the trip, which Hunt recreated on BlueJeans, was a lunchtime discussion with five Penn alumni who took his class while undergrads at Penn and have since gone on to impressive roles in journalism, political communication, or policy. In virtual attendance this year were Sarah Feldman (C'10), Communications Director for U.S. Senator John Tester (D-Mont.); Ben Geldon (C'01), Senior Producer at CNN; Seth Grossman (C'01), Chief of Staff and Counselor to the President of American University; Rebecca Kaplan (C'10), Political Reporter at CBS Interactive; and Lisa Lerer (C'01), Political Reporter at The New York Times.
Among their advice that the students were both surprised and relieved to hear: one's first job out of college is relatively unimportant. Many of the panelists have had seven or more jobs since graduating.
Sarah Fortinsky, who took Hunt's class last year and has been assisting with it this year, found both last year's live version of the panel and this year's virtual one to be enlightening, with advice that was both relevant and specific.
"A lot of people at Penn can be really focused on going to the best place and having the most prestigious name," says Fortinsky, "but they really stressed the importance of getting good experience and doing strong work and the value of learning by doing."
Fortinsky, who will be starting as a news associate in CNN's D.C. bureau this summer, notes that Hunt's former students also spoke about the importance of remaining versatile and thinking of oneself as a journalist who can apply one's skills to different media as the landscape changes.
For Justin Horn, it has been a bittersweet semester, making the best of a less-than-ideal senior spring.
"While I would have loved the opportunity to visit the nation's capital with my colleagues," he says, "Professor Hunt, along with help from IT specialists, produced an amazing virtual learning experience last Thursday, despite the very difficult circumstances." 
"If you give me a choice, I'll take the live version," says Hunt. "But this was a darn good substitute in the sense that the students felt they got something out of it. We pulled it off."