Communication Major Wins Inaugural Award From FactCheck.org
Corey Berman (C'20) was recognized for his exemplary work during his undergraduate fellowship.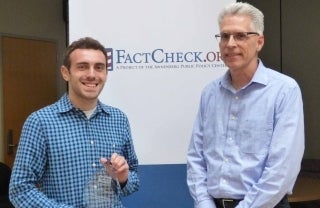 Corey Berman C'20, a junior Communication major, was honored with FactCheck.org's inaugural Brooks Jackson Undergraduate Fellowship Award on May 3. The award, named after the fact-checking organization's co-founder, honors an undergraduate research fellow at FactCheck.org who has done exemplary work in fact-checking and most embodies the talent, spirit, and integrity of Brooks Jackson.
The creation of the Jackson award, which will be given at the end of each school year, was first announced last semester by Professor Kathleen Hall Jamieson, director of APPC, at a luncheon honoring APPC's 25th anniversary and FactCheck.org's 15th anniversary.
FactCheck.org undergraduate fellows begin their training during the summer by participating in an eight-week full-time program and then go on to be part-time fact-checkers during the school year. Berman's passion for journalism and political participation motivated him to intern with FactCheck.org, and he says the experience was challenging and always interesting.
"There is so much confusion surrounding politics, making it difficult for people to get engaged and stay informed," says Berman. "But the reporters at FactCheck.org are amazing advocates for every day citizens, and the team has created a great program for undergraduates like me."
Eugene Kiely (pictured above right with Berman), director of FactCheck.org, a project of the Annenberg Public Policy Center, described Berman as a dedicated and hard-working student who took pride in his work, whether he was responding to readers, fact-checking articles, or writing his own posts for the site.
A self-described long-time news and politics junkie, Berman decided to pursue a political communication concentration after the 2016 presidential election, which took place during his first semester at Penn. Communication and politics seem especially relevant in contemporary America, he says, and the Communication major teaches principles and theories for making sense of the world of politics and citizenship.
Originally from New Jersey, Berman is involved with a variety of activities on Penn's campus, including Penn Hillel, peer advising, and the College House Music Program.
Media Contact
Michael Rozansky
(215) 746-0202
michael.rozansky@appc.upenn.edu