Diaz Selected as 2020 Lipman Fellow
The opportunity will allow her to learn about the social sector and philanthropy.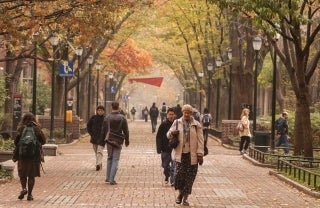 Doctoral student Kelly Diaz has been selected as one of 12 Lipman Fellows at the University of Pennsylvania for the 2020-21 academic year.
The Barry & Marie Lipman Family Prize is an annual global prize given to one organization — working on universally experienced social challenges in public health, educational equality, economic development, and beyond — that celebrates leadership and innovation in the social sector with an emphasis on impact and transferability of practices. Recruited from various graduate schools at Penn, Lipman Fellows support the selection of the Lipman Prize honorees and develop their leadership skills while learning about the social sector.
"I am really excited about this opportunity to get exposure to the social sector and gain practical skills to complement my academic interest in social justice work," says Diaz. "I am grateful for all of the Annenberg resources I have tapped into, but it is also important to remember that we are just one small piece of what Penn has to offer as a large university. By joining this fellowship team housed in the Wharton School, I am taking advantage of being a part of Penn."
As a Lipman Fellow, Diaz will review applications, analyze data, prepare materials for the prize committee, meet with the leaders of honoree organizations to learn about their work first-hand, and attend the annual awards ceremony.
The goal of the Lipman Fellows program is for students to learn about the social sector through the philanthropic process. Fellows have the chance to explore the leadership dimensions of communication, teamwork, group decision-making, and emotional intelligence while employing technical skills like data analysis and project management. The multidisciplinary composition of the Lipman Fellows community allows students to collaborate and challenge themselves in a safe learning environment.