Doctoral Candidate Antoine Haywood Awarded 2022 Sachs Program Grant
For his project, Haywood will collect stories from Philadelphia-area Black, Indigenous, and People of Color (BIPOC) media makers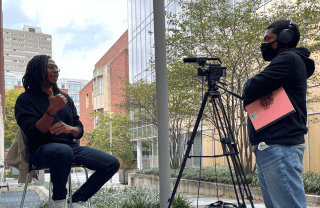 The Sachs Program for Arts Innovation at the University of Pennsylvania has announced that Annenberg School doctoral candidate Antoine Haywood is one of the awardees of its 2022 Student Grants.
The Sachs Program grants support University of Pennsylvania students in their creative endeavors and provide increased access to the arts. These grants are intended to support ambitious student-developed and student-driven projects such as performances, exhibitions, and convenings.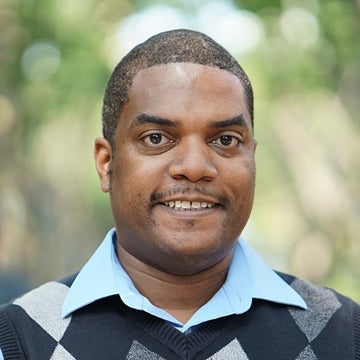 Haywood's project, entitled "Telling Our Stories: A Philadelphia Community Media Oral History Project," is a public archive of first-person narratives told by Philadelphia-area Black, Indigenous, and People of Color (BIPOC) media makers who use public access television and community radio platforms to engage in local and transnational storytelling networks. 
The project has two phases. The first will be a website that features short videos and audio clips of BIPOC storytellers reflecting on their experience making community media in Philadelphia. The second will be a book — paired with a public exhibition — which will feature the media makers' portraits, stories, and production work samples. 
"Telling Our Stories" builds on the years of experience Haywood developed working at Philadelphia Community Access Media (PhillyCAM) from 2010-2018. While he no longer works at PhillyCAM, he has remained in touch with many media makers who have expressed their interest in developing an archive that contains stories about their journeys into community media.
"It is such an honor to be one of the Sachs grant recipients this year," Haywood says. "I'm really grateful for this project support, which helps us elevate and preserve precious stories about what inspires Philadelphia-based community media makers to do what they do. Often, emphasis is placed on what media makers produce, and very little is known about their processes and motivations. Our project aims to shift and expand that perspective."
At the Annenberg School, Haywood studies the impact of local storytelling networks on civic participation, democratic communication, collective learning, and community care in communities of color. His immediate research focuses on understanding the contemporary relevance of public, educational, and governmental cable television (PEG) infrastructure. 
Haywood uses multimodal methods in his scholarship, incorporating personal narratives, artistic influences, and storytelling to enrich his research.
He has served on boards of foundations and community media organizations, including Radio Free Georgia, the Alliance for Community Media, and the Independence Public Media Foundation. In addition to his community media interests, he collects vinyl records, directs documentary videos, and performs as a local musician.