Florence Zivaishe Madenga Named George Gerbner Postdoctoral Fellow
Madenga studies journalistic practice in the United States and Zimbabwe.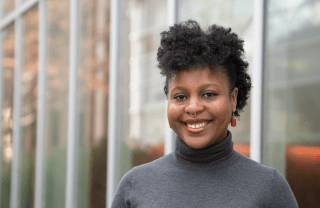 Florence Madenga has been named the George Gerbner Postdoctoral Fellow at the Annenberg School for Communication at the University of Pennsylvania.
Madenga, who studies journalism, globalization, and state-sponsored media, will defend her dissertation entitled, "Taking Satire Journalism Seriously: Living and Laughing to Bring the State Down?" in July.
The George Gerbner Fellowship, named in honor of the school's second dean, is awarded in alternate years to a graduate of Penn's Annenberg School for Communication or USC's Annenberg School for Communication and Journalism. The faculty of the opposite school selects the recipient from the group of applicants, who is then in residence at Penn for the duration of the fellowship.
While the Gerbner Fellowship normally lasts for two years, Madenga will be leaving in Fall 2024 to start a tenure track position at Boston College as Assistant Professor of Race and Communication.
As a Gerbner Fellow, she will build upon her dissertation research, continuing to investigate the concept of "satire journalism" as a means to analyze journalism under a military dictatorship in Zimbabwe and on the internet.
"During the fellowship, I am expanding my analysis to 'YouTube journalism' beyond Zimbabwe to better understand the intersection of digital media, Black, and diaspora studies," she says. 
In addition to research, Madenga will work on an oral history project that she started with Olivia Haynie, an undergraduate student at Penn, on the Philadelphia Association of Black Journalists (PABJ), the nation's oldest professional association of journalists of color.
"I want to dig further into the history and the continued relevance of PABJ as the first organization of its kind in the nation," she says, "and explore who or what gets to be historized and highlighted and who or what is left out in stories about Black professional organizations more broadly."
Madenga also plans to work with organizations at Penn to facilitate partnerships between Black undergraduate students interested in journalism and local organizations like PABJ. 
"The city and its organizations have been crucial to my development as a mentor and as a researcher, and I look forward to continuing those local engagements as a Gerbner fellow," she  says.
Prior to beginning her doctoral work at Annenberg, Madenga completed a master's degree in Humanities and Social Thought at New York University. She also holds bachelor's degrees in Journalism and Politics from New York University.
In 2021, she received the James D. Woods Award, granted to an outstanding graduate teaching assistant.
Currently, Madenga is a Research Fellow at the Center for Advanced Research in Global Communication and a Graduate Fellow at the Center for Media at Risk.