Henrichsen Named Yale Law Visiting Fellow and Perry World House Graduate Associate
These positions are for the 2020-21 academic year.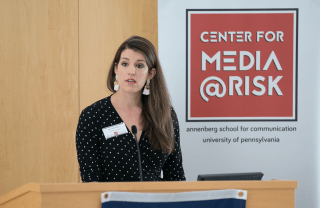 Doctoral Candidate Jennifer R. Henrichsen has received two honors for the 2020-21 academic year. She has been named a Visiting Fellow with the Information Society Project at Yale Law School, and a Graduate Associate at Penn's Perry World House.
The Information Society Project (ISP) is an intellectual center at Yale Law School working to illuminate the complex relationships between law, technology, and society. ISP fellows have diverse academic backgrounds and practical experience in law, communications, computer science, medicine, journalism, economics, political science, art, cognitive psychology, sociology, and film studies. As a Visiting Fellow, Henrichsen will attend ISP events throughout the semester and participate in its academic community.
"I'm absolutely delighted to join the intellectual community at Yale," Henrichsen says. "I've long admired the Information Society Project and its engagement on critical issues. I already feel my mind expanding in new and intellectually creative ways as part of joining this interdisciplinary and supportive community."
Perry World House's Graduate Associates Program is open to all Penn graduate students, from any school or department, who have demonstrated a serious interest in exploring world affairs. The program is designed to complement student engagement in global affairs within a vibrant community of scholars, students, and visitors while also developing professional skills relevant to shaping policy. As a Graduate Associate, Henrichsen will gain hard skills and know-how on bridging the gap between the academic and policy worlds.
"It's wonderful to be a Graduate Associate at the Perry World House this academic year," says Henrichsen. "My first master's degree is in international and European security which I obtained while in Geneva, Switzerland on a Fulbright Research scholarship, and I've missed the global debates we used to have as a cohort. As a Graduate Associate, I'm looking forward to being immersed in important conversations about urgent global issues and having the opportunity to connect with incredible individuals who have worked in leadership positions in government and across civil society."
Previous Perry World House Graduate Associates from the Annenberg School include alum Kecheng Fang (Ph.D. '19), doctoral student Florence Zivaishe Madenga, doctoral candidate Muira McCammon, and doctoral candidate Mohammed A. Salih.