How Do Media Depictions of Tobacco Influence Smoking Decisions for Young Adults?
Two studies from the Annenberg School for Communication's Robert Hornik find that media portrayals of such behaviors can change actions and perception, but how and by how much depends on a range of factors.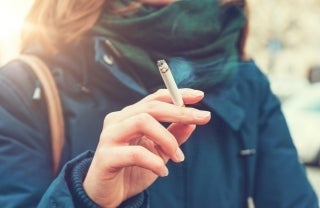 How does the media's portrayal of tobacco and e-cigarette use affect whether young adults decide to smoke? That's the overarching question two recent studies from Penn's Annenberg School for Communication aimed to answer.
The first, published in the Journal of Communication, found that negative media coverage of these behaviors mattered in reducing intent to smoke, an effect stronger for current smokers than for nonsmokers. A second, shared in the journal Communication Research, found that views about the prevalence and acceptance of tobacco and e-cigarette use changed for young people depending on the medium on which it was viewed.
"This project measured media coverage of these issues in a very intensive way," says Robert Hornik, the Wilbur Schramm Professor Emeritus of Communication and Health Policy and project investigator for this work. "We had 85 million tweets in our database. We measured old media and new media. We did our best to determine what the media said about tobacco and e-cigarettes every day for three years."
The work evolved under the auspices of what was then a new federal initiative from the U.S. Food and Drug Administration and the National Institutes of Health (NIH) called the Tobacco Centers of Regulatory Science grant program. In 2013, Hornik received nearly $3.5 million to study how communication about tobacco products was changing in a shifting media environment, part of a Center grant of more than $19 million.
In nearly a decade since, his team has published a dozen papers on this work, including the two latest. Hornik led the research on the influence of public communication on decision-making around smoking. As Penn doctoral students, Leeann Siegel, now a postdoctoral fellow at the NIH's National Cancer Institute, and Jiaying Liu, now an assistant professor at the University of Georgia, led the study about norms.
"These are obviously studies about tobacco, but they're also about media effects and how to think about them," says Siegel, whose current work applies the methods and theories of communication research to smoking-cessation interventions. "This project has taken a lot of energy over a lot of years for a lot of people. These two papers are crucial outcomes."
For the first paper, the team—which included Hornik, Laura Gibson, and several others from Penn, as well as colleagues from the University of Chicago and elsewhere—monitored the daily media landscape from May 2014 through June 2017. The work included what the researchers dubbed "long-form" outlets—50 major U.S. newspapers, The Associated Press wire service, eight broadcast news outlets, and more than 100 websites popular with a young adult subset, as classified by Nielsen—plus the social media outlets Twitter and YouTube.
"The original study gave us a chance to ask the big question about the effect of the entire media environment. It's quite an unusual project in that sense. There hasn't been anything quite of this scale before." — Robert Hornik
Each week, the researchers used supervised machine learning to delineate any tobacco-related content from the previous seven days as either for or against smoking. Simultaneously, they conducted a weekly phone survey to 13- to 25-year-olds in the U.S. More than 11,000 initially responded, with nearly 4,500 completing a second interview six months later. The surveys asked questions such as whether participants had ever smoked, how likely it was they might try to quit, and how they felt about a series of statements regarding tobacco use.
The researchers then analyzed the datasets side by side. Across all platforms but YouTube they found a significant association between anti-tobacco messaging and lower intentions to smoke among the U.S. youth and young adult population. The same wasn't true, however, for positive coverage of tobacco products, which didn't move the needle in either direction.
"The original study gave us a chance to ask the big question about the effect of the entire media environment, not about specific messages," Hornik says. "It's quite an unusual project in that sense. There hasn't been anything quite of this scale before."
The second study, which used a similar methodology as the first, was meant as a follow up to a 2019 Journal of Communication paper led by Liu and involving Siegel and others in Hornik's lab. It analyzed media depictions of tobacco use and their role in normalizing such behavior.
Here, they considered two facets: "population norm" mentions or descriptions of the behavior at a population level—for example, summary statements like "X percentage of high schoolers use e-cigarettes"—and "individual use depictions," instances of someone using or discussing their use of tobacco or e-cigarettes.
"We anticipated that any type of depiction of an individual using a tobacco product would make young people believe tobacco use was more common and more approved of," Siegel says. "We found that in some cases. The more they appeared in long-form texts, the more likely people were to report the behavior was normative."
Social media, on the other hand, went the opposite way. "The more individual use depictions on YouTube, the less likely people were to say tobacco use was common. The more depictions of tobacco use on Twitter, the less likely people would say that their close friends would approve of the behavior," she says. "We have some hypotheses for why this played out, but we're not yet able to figure out the root cause." They found no effect from population norms content.
Hornik and Siegel say the work has several implications. In terms of norm perceptions, media do "have an effect, but it may not necessarily be straightforward," Siegel says. There's more work to do to understand the real-world consequences.
Regarding media influence on tobacco-related behaviors, Hornik says the results suggest "media coverage overall was anti-tobacco and reduced youth interest in tobacco use. Although much research focuses on effects of specific messages and is often concerned about single instances of pro-tobacco content, our focus finds that media coverage writ large is negative and predicts reduced use."
Funding for the research came from the National Cancer Institute of the National Institutes of Health and the Food and Drug Administration Center for Tobacco Products (Grant P50CA179546).
Robert Hornik is the Wilbur Schramm Professor Emeritus of Communication and Health Policy in the Annenberg School for Communication at the University of Pennsylvania.
Jiaying Liu is an assistant professor in the Department of Communication Studies at the University of Georgia. She earned her Ph.D. from Penn in 2017.
Leeann Siegel is a cancer research training award postdoctoral fellow in the Tobacco Control Research Branch of the National Cancer Institute at the National Institutes of Health. She earned her Ph.D. from Penn in 2021.