John L. Jackson, Jr. Named Dean of the Annenberg School
Jackson's tenure as dean will begin on January 1, 2019.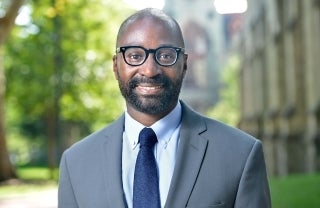 A Message From Penn President Amy Gutmann and Provost Wendell Pritchett:
After a robust international search, we are very pleased to announce our appointment of Dr. John L. Jackson, Jr. as the next Dean of the Annenberg School for Communication, effective January 1, 2019. John will continue in his present position as Dean of Penn's School of Social Policy and Practice until December 31, 2018. Dr. Michael Delli Carpini has graciously agreed to extend his term as Annenberg Dean until December 31 to help ensure a seamless transition for John.
John's achievements as a scholar, a teacher, and an academic leader are numerous and inspiring. He is already well known and universally respected at Penn, where he has served since 2014 as Dean of the School of Social Policy and Practice, and is also the Richard Perry University Professor, with appointments in the Annenberg School for Communication, the School of Arts and Sciences, and the School of Social Policy and Practice. As a Dean and in his own scholarly work, John has consistently harnessed the power of diverse, interdisciplinary teams – and driven mutually beneficial collaborations between the liberal arts and the professions – to better understand and address society's most timely and challenging questions. 
John's deep experience, superb judgement, high standards, and broad support across our campus clearly position him as the best person to lead the Annenberg School, which in the years ahead will strengthen its leadership position in communication by blazing new trails in scholarship and education that advance theoretical and empirical understanding of communication in the broadest sense.
During his tenure as Dean of the School of Social Policy and Practice, John has exemplified our Penn Compact 2020 commitment to inclusion, innovation, and impact. SP2 is enrolling more diverse and more academically accomplished students, and the faculty's research programs have never been stronger. John has forged partnerships with Penn GSE and Penn Nursing to spearhead The Penn Futures Project, which is improving the lives of young people and their families across Philadelphia. He has been a champion of innovative teaching and learning with a school-wide Massive Open Online Course that has allowed our faculty to reach students around the world.  His "Future of Social Change" tour was a resounding success in reconnecting SP2 alumni from across the nation to the school.
John's leadership experience at Penn extends beyond his exemplary service as SP2's Dean. He earlier served as the Annenberg School's Associate Dean for Undergraduate Studies and Associate Dean for Administration, as a Senior Advisor to the Provost on diversity, and as Chair of the University Council Committee on Diversity and Equity. Beyond Penn, he has served as program chair for the American Anthropological Association's annual conference and on the editorial boards of highly respected journals.
John joined Penn in 2006 as our first Penn Integrates Knowledge (PIK) University Professor, a program to recruit preeminent faculty who have appointments in at least two Penn schools. A renowned cultural anthropologist, John has written and taught about racial- and class-based differences in contemporary urban life, how contemporary urban religions can be used to improve health literacy and health outcomes, the impact of mass media on urban life, and the remaking of ethnic and racial diasporas. He has also critically explored how film and other non-traditional or multi-modal formats can be used in scholarly research projects and, with Annenberg School and other Penn colleagues, helped found CAMRA and PIVPE: two Penn-based initiatives organized around creating visual and performative research projects. As a filmmaker, John has produced a feature-length fiction film, documentaries, and shorts that have screened at film festivals internationally.
John earned his B.A. in Communication summa cum laude from Howard University and received his M.A., M.Phil., and Ph.D. with distinction in anthropology from Columbia University. Prior to coming to Penn, he was a Junior Fellow in Harvard University's Society of Fellows and a faculty member in Duke University's Cultural Anthropology Department. In 2009, John served as a Visiting Professor of Law at Harvard Law School.
Our selection of John Jackson as the next Dean of the Annenberg School successfully concludes a global search to find a successor to Michael Delli Carpini, who has served with incredible distinction as Dean since 2003. Michael's outstanding leadership and unrivaled Penn citizenship have advanced the Annenberg School across every measure. The faculty has grown in size, diversity, and intellectual scope; scholarly and research programs have never been stronger; and Annenberg's campus partnerships are fostering the integration of knowledge across traditional disciplinary boundaries.
John Jackson has the experience, vision, and collaborative spirit to help ensure Annenberg's continued place among the world's preeminent research and teaching programs in communication. As a longtime Annenberg faculty member, we know that John will work very well indeed with the School's faculty, students, staff, and alumni in the years ahead. We look forward to working with him – and with all of you – to build on Annenberg's incredible legacy and to chart its ambitious course for the future.