Julia Ticona Named 2022-23 Center for Advanced Study in the Behavioral Sciences Fellow
As a CASBS fellow, she will work on a book project about labor platforms and domestic carework in the digital economy.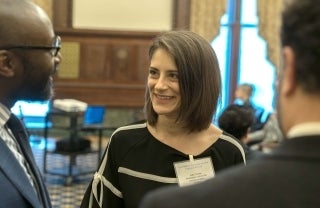 Assistant Professor Julia Ticona has been named a 2022-23 Fellow at the Center for Advanced Study in the Behavioral Sciences (CASBS) at Stanford University.
This year's cohort of 34 scholars represent 16 U.S. institutions and a diverse range of fields, including anthropology, communication, economics, education, geography, history, law, medicine, philosophy, political science, psychology, public affairs, public policy and urban studies, public health and nutrition, science and technology studies, and sociology.
The program has been bringing scholars from across the country and around the world to learn from each other and conduct research together at Stanford since 1954.
During her fellowship, Ticona will continue developing a book project that emerged from a series of publications over the last several years related to labor platforms and domestic carework. 
Over the past two decades, online platforms like SitterCity and Care.com have connected childcare workers such as nannies and babysitters with prospective clients, with millions of profiles created and operations in countries around the world. Yet, as Ticona has observed, these sites have received little attention in scholarship or broader public discourse on technology and the future of work. 

Ticona's research on online domestic labor platforms began with a 2018 article in New Media & Society, "Trusted Strangers: Carework platforms' cultural entrepreneurship in the on-demand economy". The article, co-authored with Alexandra Mateescu, drew from extensive ethnographic interviews with "gig" workers in three states, and was the first peer-reviewed study of carework platforms.
The study argues that such platforms are "cultural entrepreneurs" in largely informal markets, which create and maintain distinctions between trustworthy and untrustworthy workers and institutionalize these distinctions into platform features. This research attracted coverage in outlets including The New York Times, NPR's All Things Considered, and The Nation.
"Online markets for care bring together a host of different actors – from workers and families looking for care, to platform companies, regulators, policymakers, and activists – to co-construct a moral market for carework," Ticona says. "This book project asks – how was carework transformed into a commodity that could be bought and sold online? How do data-intensive systems shape this informal field of work?" 
A sociologist and Communication scholar, Ticona's work is informed by dozens of interviews with both careworkers and parents, conducted both before and during the COVID-19 pandemic. The project aims to tell an intimate story about the racial and gendered politics of trust in the digital economy.
Beyond excellence in research and accomplishments, CASBS emphasizes collaborative and cross-disciplinary interactions among its fellows. The program encourages applications from scholars and thinkers who are minorities, women, and those who represent a wide range of institutions and countries.
Ticona is the fifth Annenberg faculty member to receive the honor. Past CASBS fellows include Associate Professor Sandra González-Bailón (2019-20), Associate Professor Damon Centola (2014-15), Professor Barbie Zelizer (2011-12), and the late Emeritus Professor Elihu Katz (2005-06).