Kathleen Hall Jamieson Receives 2022 Mitofsky Award
Professor and APPC Director honored for her pioneering work on fact checking and research into political deception and misinformation in America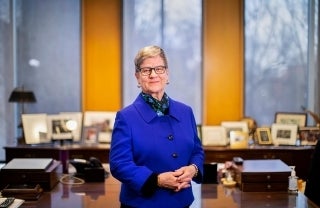 The Roper Center for Public Opinion at Cornell University announced today that University of Pennsylvania Professor Kathleen Hall Jamieson is the recipient of its 2022 Warren J. Mitofsky Award for Excellence in Public Opinion Research. The award recognizes Jamieson, Elizabeth Ware Packer Professor of Communication and Director of the Annenberg Public Policy Center, for her numerous contributions to understanding public opinion.
In announcing the award, the Center cited Jamieson's "scholarly contributions to our understanding of political opinion, in particular its interrelation with media, in a range of contexts from electoral choice to public health and, presciently, the public's understanding of science and its importance."
The Center also pointed to Jamieson's long-standing research interest in the risk of misinformation in the media and its effects on American society. Her 1992 book Dirty Politics explored deceptive practices in political ads and speeches, and the way that inflammatory rhetoric succeeded in capturing media attention.
As a means to confront this deception, she co-founded the nonpartisan group FactCheck.org in 2003 at the Annenberg Public Policy Center with journalist Brooks Jackson, with the support of philanthropists Walter and Leonore Annenberg.
Among Jamieson's 16 other authored or co-authored books are Creating Conspiracy Beliefs: How Our Thoughts Are Shaped (2022) and Cyberwar: How Russian Hackers and Trolls Helped Elect a President (2019). In 2020, she received the Public Welfare Medal from the National Academy of Sciences for her "non-partisan crusade to ensure the integrity of facts in public discourse and development of the science of scientific communication to promote public understanding of complex issues."
"For decades, Kathleen has been masterful in employing public opinion research to understand the media's impact on ordinary Americans," says Annenberg School Dean John L. Jackson, Jr. "Her commitment has been unwavering in the effort to help us all understand just how misinformation and disinformation threaten to undermine democracy."
With Richard Johnston, of the University of British Columbia, Jamieson created the 2000, 2004, and 2008 National Annenberg Election Surveys (NAES), rolling cross-sectional surveys of the U.S. electorate. The 2000 NAES data set underpins Johnston, Jamieson, and Michael G. Hagen's The 2000 Presidential Election and the Foundations of Party Politics (Cambridge University Press, 2010), which explains how Democratic nominee Al Gore won the popular vote in 2000 but Republican nominee George W. Bush secured the election by winning the Electoral College. 
The PROSE Award-winning The Obama Victory: How Media, Money and Message Shaped the 2008 Election (Oxford University Press, 2010), which Jamieson co-authored with Annenberg School graduates Kate Kenski (University of Arizona) and Bruce Hardy (Temple University), merged information on broadcast television, cable TV, and radio ads with survey data to demonstrate the effects that differential spending on ads and ad messages had on the vote preferences of target audiences.
Drawing on an Annenberg Institutions of Democracy survey, Jamieson argued in Cyberwar: How Russian Trolls and Hackers Helped Elect a President (Oxford University Press, 2018) that reporting about, and media and debate use of, Russian-hacked Democratic National Committee content in the run-up to the 2016 election negatively affected trait perceptions of Democratic candidate Hillary Clinton in ways that had the potential to shift sufficient votes to give the White House to Republican candidate Donald Trump.
Across the past decade, Jamieson's Annenberg Constitution Day civics knowledge surveys have tracked changes in public knowledge about key constitutional concepts as well as public understanding of and confidence in the Supreme Court. During the Zika outbreak of 2016, the measles outbreak of 2019, and the Covid-19 pandemic, APPC's Annenberg Science Knowledge survey tracked public knowledge and levels of misinformed beliefs about these diseases.
Past recipients of the Mitofsky Award include Lawrence D. Bobo, Dean of Social Science and the W.E.B. Du Bois Professor of the Social Sciences at Harvard University; Karlyn Bowman, senior fellow at the American Enterprise Institute; Patricia Moy, Christy Cressy Professor of Communication at the University of Washington; Mollyann Brodie, senior vice president for executive operations and executive director, public opinion and survey research, at the Henry J. Kaiser Family Foundation; Daniel Yankelovich, the noted public opinion researcher, and Andrew Kohut, the public opinion pollster.