Lauren Bridges Receives 2021-22 Graduate Student Fellowship for Teaching Excellence
The fellowship is designed to help graduate students develop as teachers.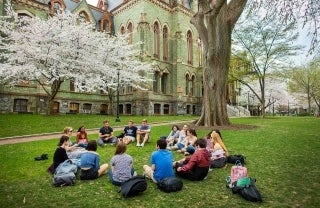 The Center for Teaching and Learning (CTL) at Penn has awarded doctoral candidate Lauren Bridges a 2021-22 Graduate Fellowship for Teaching Excellence.
CTL Graduate Fellows are nominated for their teaching excellence by their schools or departments and then chosen in a highly selective process by CTL from a strong pool of university-wide nominees. Between 10 and 14 fellows are typically chosen each year.
CTL's Graduate Fellowship for Teaching Excellence program honors graduate students who are dedicated to excellent teaching and is designed to foster conversations about teaching in order to help graduate students develop as teachers. Graduate Fellows organize and facilitate teaching workshops in their departments and across the university, observe graduate students teaching and offer feedback, and meet regularly as a fellows group to discuss teaching practices.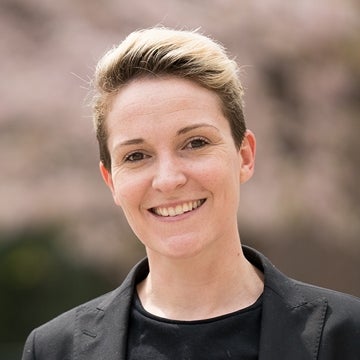 Bridges, who was previously recognized for her teaching excellence with the 2019 James Woods Award, has served as a teaching fellow for three courses at Annenberg: COMM 130: Media Industries and Society, COMM 203: Media, Culture, and Society in Contemporary China, and COMM 226: Introduction to Political Communication. She also taught a summer section of COMM 130 as the instructor of record.
"I'm excited to be a CTL fellow, which will allow me to collaborate with and learn from faculty and graduate students across Penn in sharing tools and advice on how to become more effective educators," Bridges says. "The CTL workshops provide an important space for graduate students to reflect on our own position as teachers, to share knowledge and pedagogical frameworks, and to have meaningful conversations about teaching with faculty that we respect and admire."
Bridges researches the material and discursive entanglements of digital infrastructures in the (re)production of state and corporate power and pays particular attention to the stories we tell about technology and its imagined futures. Her work has been published in New Media & Society, Big Data & Society, and Information, Communication & Society, and she has received awards and honorary mentions from the International Communication Association, the National Communication Association, and the Association for Internet Researchers. She holds an M.A. in creative writing, publishing, and editing from the University of Melbourne and a B.A. in business from Queensland University of Technology.
Bridges is the seventh Annenberg student to receive this fellowship. Recent past winners include Antoine Haywood, Samantha Oliver (Ph.D. '20), and Elena Maris (Ph.D. '18).