Litty Paxton To Become Annenberg's Associate Dean for Undergraduate Studies
Currently the Director of Penn Women's Center, Paxton has long been a popular lecturer at Annenberg.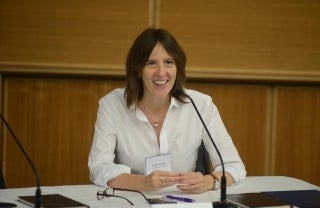 Dean Michael Delli Carpini announced this week that Felicity (Litty) Paxton, Ph.D., will become Annenberg's new Associate Dean for Undergraduate Studies, starting on August 13.
Paxton, who has been Director of Penn Women's Center since 2008, has long been a popular lecturer at Annenberg, teaching the introductory class "Critical Approaches to Popular Culture" and the upper-level seminar "Ritual Communication." She has also taught courses for Penn's Gender, Sexuality and Women's Studies Program, the Department of English, the Critical Writing Program, and the Social Justice Summer Academy.
The quality of her teaching, mentorship, and leadership has been widely recognized – through a Distinguished Service Teaching Award in 2006, a Friar's Faculty Award in 2016, a Penn Models of Excellence Award in 2017, and most recently, the University of Pennsylvania Provost's Award for Teaching Excellence in 2018.
At the Penn Women's Center, Paxton has spearheaded a variety of programmatic and building initiatives. She oversaw the creation of Penn Violence Prevention, a multi-dimensional program offering education, expertise, advocacy, and consultation services on Interpersonal Violence. She established PWC's first ever Lactation room, oversaw the creation of the Center's Garden, and directed an award-winning green project: Penn's first ever Environmental Education Kitchen. To mark the Center's 40th Anniversary in 2014, Paxton launched Voices of Change, a video-series documenting the inspiring stories of a diverse range of female leaders at Penn.
Litty served for twelve years as a residential faculty member in Penn's College House system, embracing Penn's mission to extend learning beyond the classroom setting.
Born and raised in the United Kingdom, Litty Paxton received a Ph.D. in American Civilization and a Graduate Certificate in Women's Studies from Penn.
"[Future Annenberg Dean] John Jackson and I could not be more pleased that Litty accepted our offer," says Delli Carpini, "and we are excited about the leadership and creativity she will bring to our undergraduate program."
Paxton takes over for previous Associate Dean Amy Jordan, who recently left Penn to become a professor of journalism and media studies at the Rutgers University School of Communication and Information.
"I'm delighted to be transitioning to a full-time role in Annenberg and to have this opportunity to build on the great work of past Associate Deans," says Paxton. "Having benefited myself from a Penn education, I'm thrilled to have this opportunity to work with Annenberg's incredible staff, faculty and graduate students to enhance the undergraduate program."